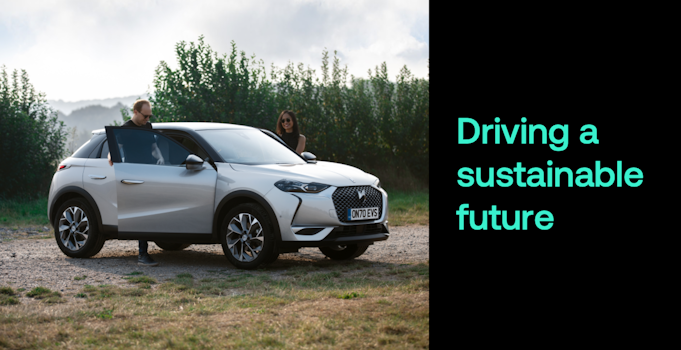 Driving a sustainable future
Sustainability is at the heart of what we do. Electric cars are an amazing step towards a more sustainable way of living, saving tons of CO2 from being released into the atmosphere.
In our yearly survey, you told us that 9 out of every 10 people joining Onto are driving an electric car for the first time. That means we're already helping thousands make the switch to an EV and we're just getting going. With the ban on sales of new petrol and diesel cars planned from 2030, we're here to help as many people change to sustainable mobility as possible.
When you look at our Community's environmental impact throughout 2021, the results speak for themselves:
You drove more than 17 million pure electric miles
We added over 6,000 new electric cars to our fleet
Driving electric saved 1,981,848 litres of fossil fuels
Saving 3,985 tonnes of CO2 tailpipe emissions from entering the atmosphere
The more we grow, the more positive impact we have on the environment, as you can see from our Under the Hood 2021 round-up.
We believe that the future is electric, but you don't have to take our word for it. In it's 'The Road to Zero' report, the UK Government states that electric cars create, "substantially lower greenhouse gas emissions than conventional vehicles, even when taking into account the electricity source and the electricity used for battery production. Assuming the current UK energy mix, battery electric vehicles produce the lowest greenhouse gas emissions of all the energy sources and fuels assessed, irrespective of vehicle type and operation."
We're sure you're well aware of the sustainable benefits that electric cars have, but we do also understand there are still those who need convincing. To help put your mind at ease, we want to take you through the life cycle of an EV:
Start of life - The manufacture of an EV is the "dirtiest" part of its lifecycle as manufacturers are still working their way towards a fully sustainable process. Manufacturing is far from perfect but progress is being made, for example Audi electric cars are built in the world's first Co2 neutral factories in Brussels and Gyor, while Volkswagen are following their 'Way to Zero' plan to become a completely carbon neutral company by 2050.
During life - Aside from the obvious fact that EV's emit fewer air pollutants, much of the charging infrastructure is powered by renewable energy sources. Our charging partners Shell Recharge is committed to a cleaner energy future and are investing billions to improve the charging infrastructure in the UK.
End of life - Electric car batteries are fully recyclable, their second life can be used to supplement the electricity grid. Finally, in their third life, car batteries can be dismantled and re-made as brand new car batteries!
From a logistics standpoint, we also work with our delivery partners to make our car movements more sustainable so deliveries are made by driving your electric car to you rather than transporting it on the back of a diesel-powered truck. The drivers then use public transport and car sharing for return journeys.
As a business, we have a passion for building a sustainable future and we aim to promote greener ways of living for all. Our 'Onto Friends' initiative is a great way of doing this by introducing our community to other like-minded businesses striving for a sustainable future.
We've partnered with two sustainability-led brands so far, our first was Dropless, who have saved over 20 million litres of water by providing a waterless car wash alternative that comes straight to your door. Our most recent 'Friend' was Non Plastic Beach, who aim to eliminate single-use plastics by sourcing and selling a variety of plastic-free everyday products. They even supplied the products for the world's first plastic-free flight!
We want to help our Community to adopt more sustainable ways of living and we'll be introducing more Onto Friends in the near future so keep your eyes peeled…
We know the path to a truly sustainable future is only just getting started and there's much more that we can do but we hope you will join us on this journey!