The best electric cars to look out for in 2019
Electric cars (EVs) are quickly becoming less of a novelty and more mainstream in the UK. With a growing selection of options available to drivers looking to switch to electric, more and more car manufacturers are jumping on the EV bandwagon and rolling out electric models with all the latest technology, longer driving ranges, speedier charging times, and more affordable prices. This upward trajectory has made it harder for drivers to select the right car for them.
So, if you are looking to make the leap to an electric car, read on to see the top electric cars and find out which cars will best suit your needs. We've split our favourite 2019 EVs into categories to suit different lifestyles, budgets, and demand for green credentials.
The New Renault Zoe 50 -  For EV enthusiasts seeking a practical car for urban environments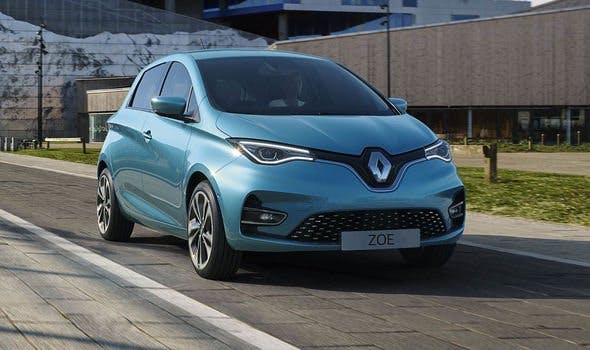 The New Zoe 50 without a doubt makes our list as the best entry-level EV coming to the market in 2019, with the previous model being deemed one of the best selling cars in the EU. The Zoe 50 has undergone a revamp both externally and internally, it will have a larger battery, increased range and faster charging. With a battery capacity from 41kWh to 52kWh  resulting in the range rising from 186 miles to 242 miles. 
Not too mention the exterior update with new LED lights, both front and back, some chrome accents, and turn signals sweep from the center outwards. The center console has also been redesigned, adding a new 9.3-inch touchscreen display which comes as standard on every model. Beneath it sits a new electronic gear level, parking brake and wireless charging pad for smartphones.
Why should you consider the 2019 Renault Zoe?
Battery life and real-world range to be extended
Reliable urban electric car
Low running costs
Quiet
Tesla Model 3 - For EV enthusiasts seeking premium design, performance and style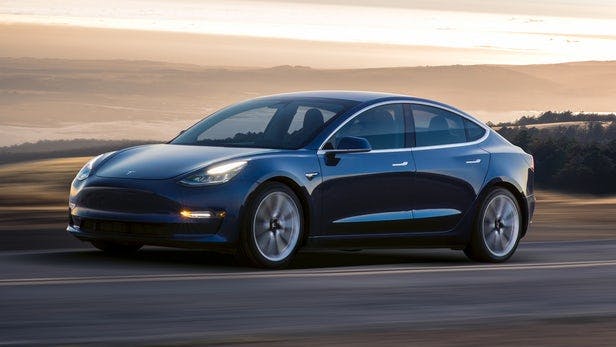 The long-awaited Tesla Model 3 is one of the most talked-about electric cars in the UK. This car makes it our list as it is the most affordable car Tesla have launched to date. The base model packs a claimed 254-mile range and the ability to sprint from 0-60mph in just 5.3sec. The Performance model has an increased range of 329 miles and will get from 0-60mph in 3.2 seconds.
 The Tesla Model 3 is cutting edge tech, you 'wave around'  a card to start it! Another benefit to owning a Tesla is the potential for autonomous driving. An 'autopilot' option will give you all the cameras you'll need in the future for some slick, autonomous functions. It may not be the cheapest or the most unique, but it's still the one to beat for futuristic tech.
Why should you consider the Tesla Model 3? 
Cutting edge technology
Very quick
Range is excellent
Auto-pilot mode
BMW i3 - For EV enthusiasts seeking excellent driving performance
Since its launch back in 2013, the BMW i3 has appealed to consumers for its performance and suitability as a city car. The current 2018 version can reach speeds of 0 to 60mph in 7.2 seconds, but the 2019 addition is expected to be even better. 
Like the Renault Zoe, there is also good news for the i3 with its battery life. Back in September 2018, BMW announced that the i3 would have an extended range, bringing it up to 160 miles. It is due for release at the end of 2019 and the latest version is sure to be another hit with a clever F1-spec carbon fibre construction.
Why should you consider the 2019 BMW i3? 
Speed
Build Quality 
Futuristic
Hyundai Kona - For the range anxious EV enthusiast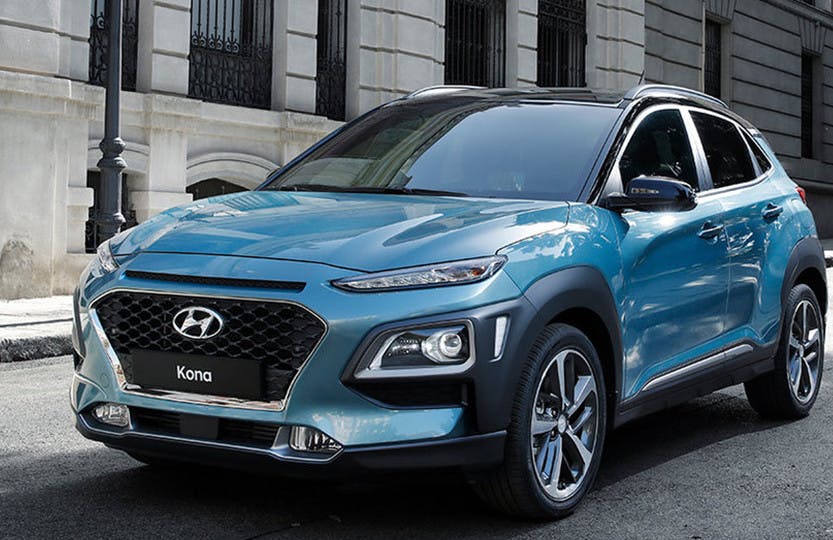 If you're looking for bang for your buck, then you won't be disappointed with the Hyundai Kona, which has a 200 to 300-mile range. The Kona is one of many urban cars which makes our list, but it's different in that it is an SUV.

Technology is at the forefront of the interior, with some of its top features including AppleCarPlay, Android Auto and a head-up display to project important information in your line of sight. The latter allowing you to keep your concentration on the road. 
The Kona has similar performance to the Niro, with top speeds of 104mph and reaching 0-62mph in 7.6 seconds. 
Why should you consider the 2019 Hyundai Kona?
Incredibly high mileage for the price
Futuristic looks
Good value
Kia Niro - For the EV enthusiast seeking a 'What Car? Of the year Winner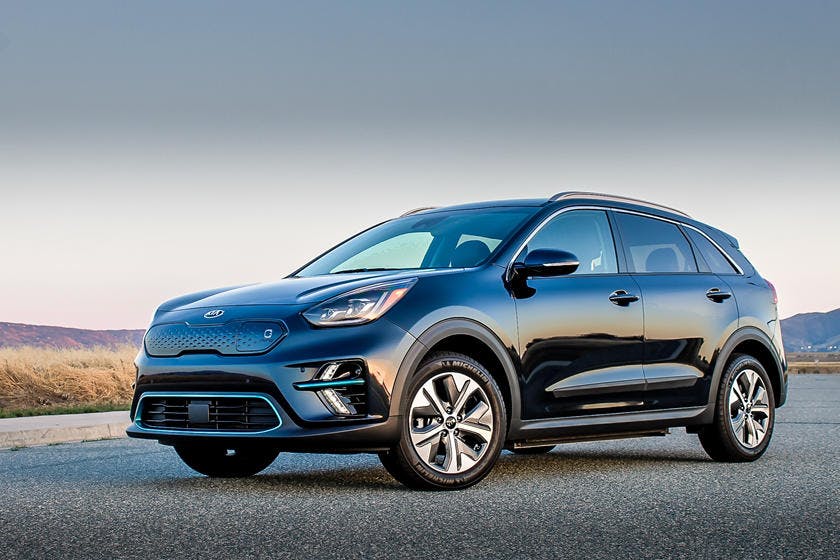 Looking for a recommendation for an electric car? How about this one from the Kia Niro, which was crowned as What Car? Car of the Year 2019. The fully-charged zero-emissions Kia beat 23 other category winners, with What Car? Highlighting it as an exceptional family car for its affordability and long-range
The Kia e-Niro will charge to 80% capacity in under 1 hour, giving you 282 miles of range. Its top speed will be 104mph and it will reach 0-62 mph in 7.5 seconds. 
Like its sister car, the Hyundai Kona, the Niro is technologically advanced with some cutting edge safety features including forward collision avoidance, lane-keeping assist, hill start assist and smart cruise control. 
Why should you consider the Kia e-Niro?
Long-range 
Quick battery charging
Cutting edge technology
Hyundai Ioniq - For the tech enthusiasts among us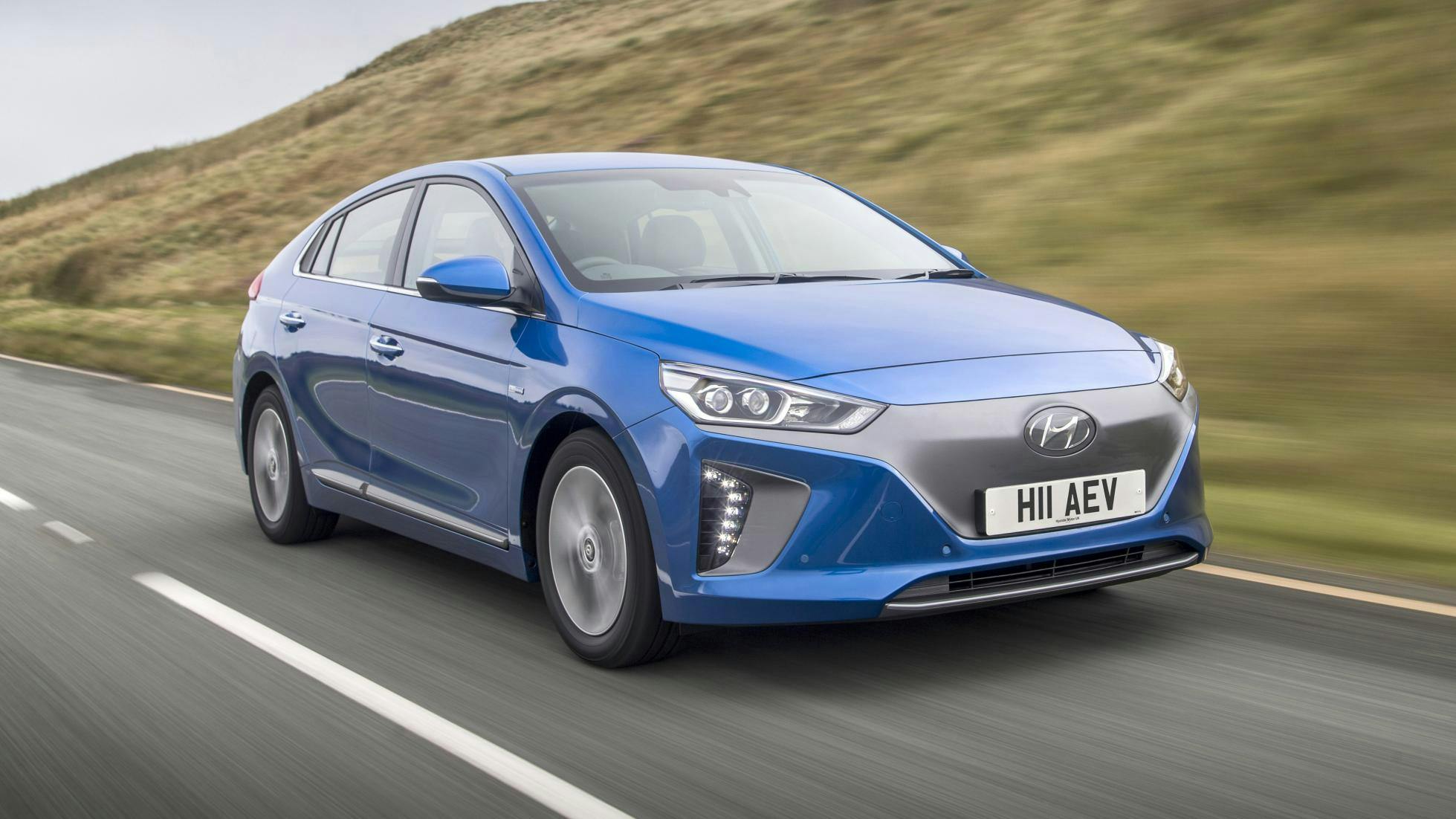 The Hyundai Ioniq is a fairly new addition to the electric car industry, starting out back in 2016, compared to the i3 and the Zoe which already had one or more generations at this point. The 2019 version of the Ioniq is set to add safety features, infotainment and trim level content. 
Tech fans will love some of the new features of the car, including driver attention alert and high beam assist safety features. Driving features also include automatic emergency braking, lane keep assist, smart cruise control and charge management features. 
There are no changes to powertrains, so the IONIQ Electric still will go 128 miles (EPA), while the IONIQ Plug-In will go 29 miles (EPA) in all-electric mode.
Why should you consider the 2019 Hyundai Ioniq? 
Plush exterior and interior
Spacious
Low running costs
Nissan Leaf Plus - For the EV enthusiast seeking reliability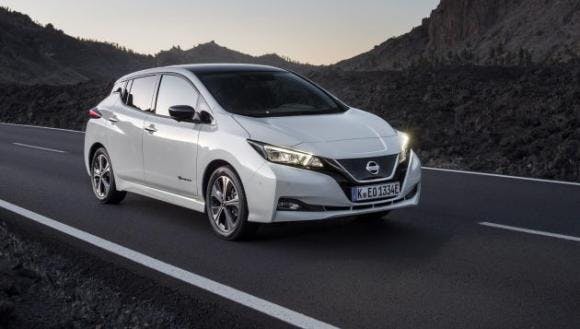 The Nissan leaf Plus will put many people at ease with the latest improvements, now has more range a fresh and stylish look, better acceleration and handling, and up-to-date technology.  The Leaf Plus has a 62-kilowatt-hour lithium-ion battery, compared to previous versions which had a 40-kilowatt battery. The new updates also give the car a 226-mile range. 
The new Nissan also fares well when we review its performance. It takes 7 seconds for it to hit 60 miles, roughly a second quicker than the standard Leaf. It handles twisty roads well and the new one-pedal driving feature slows the car all the way to a stop without the driver needing to use the brake pedal. 
Why should you consider the Nissan Leaf Plus?
Very good range and battery
Modern driving features
Quicker than you would expect
Volkswagen e-Golf - For the EV enthusiast seeking an electric car in the shape of a petrol model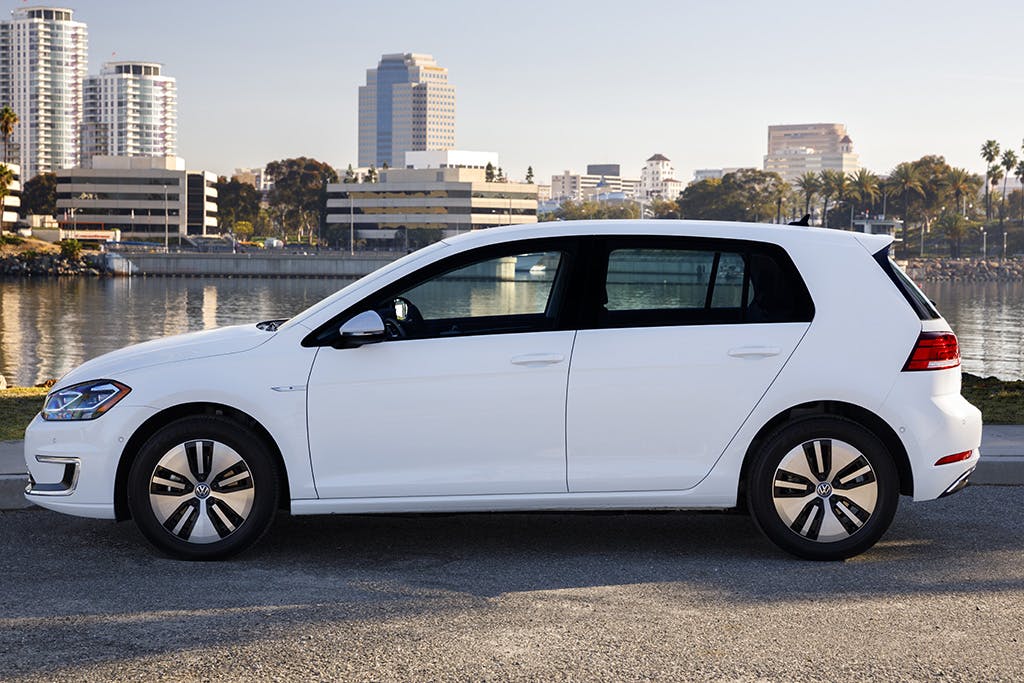 The e-Golf is packed with modern features including Adaptive Cruise Control, Front Assist, Blind Spot Sensor, Park Assist, Traffic Jam Assist and Emergency Assist, which brings the car to a controlled stop if you're unable to. 
Additionally, it also has a Car-Net Mirrorlink system, which makes your Android and Apple entertainment apps available on your dashboard. But, possibly the most impressive feature is the Active Info Display which delivers navigation instructions in the driver's eyeline directly behind the steering wheel. 
VWs are often characterised by their sizeable alloys and the e-Golf is no exception as it has 16-inch 'Tileve' alloy wheels which are specifically designed to be extra-aerodynamic. This also saves the car energy. 
Why should you consider the Volkswagen e-Golf?
Exceptional handling, acceleration, and grip
Classy and unique looking
Spacious and practical interior
Mini Electric 2019 - For the EV enthusiast looking for the most entertaining and affordable electric car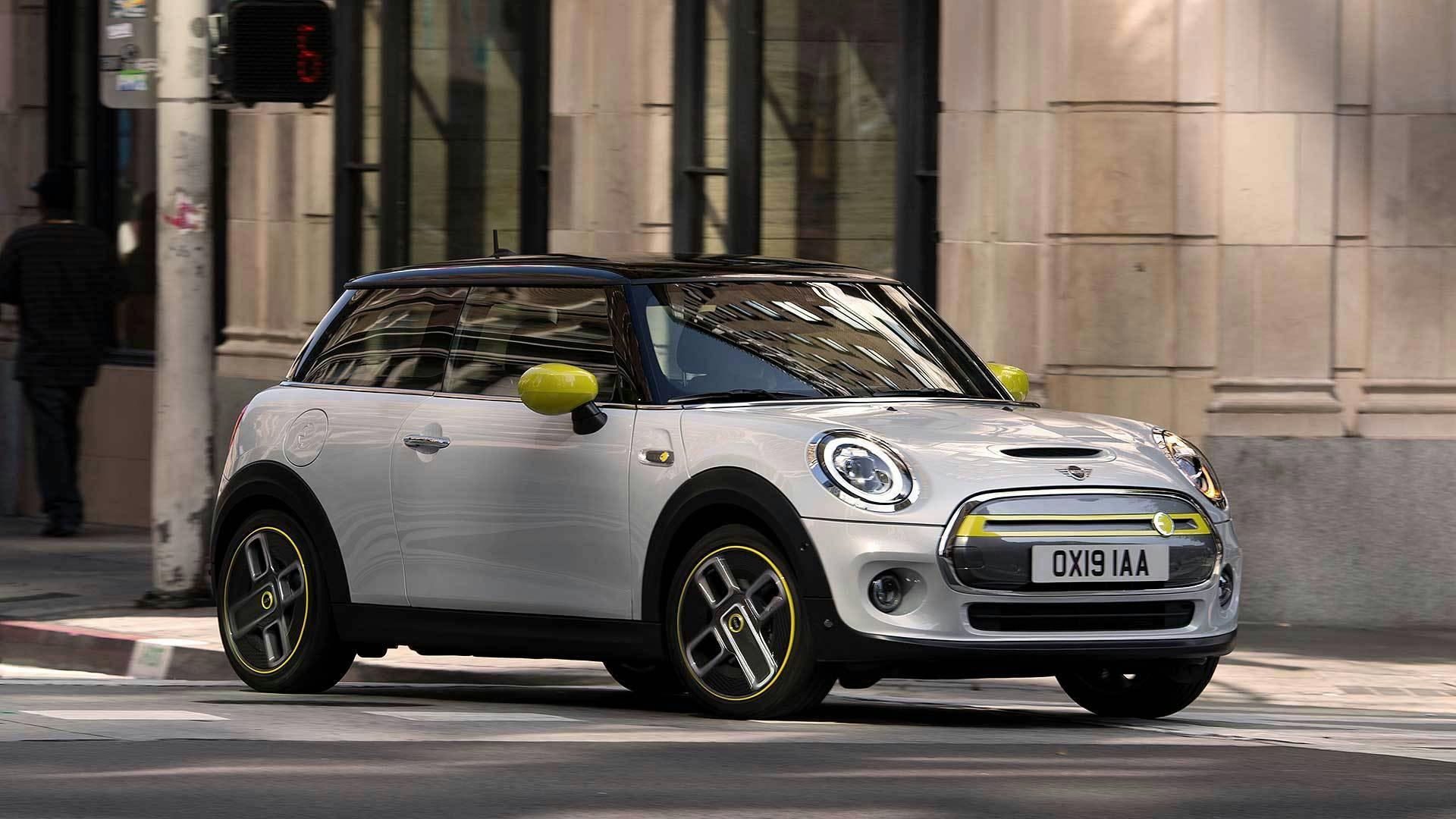 Mini has already received over 40,000 'registrations of interest' ahead of any test drives. The new Mini will be the manufacturers first attempt at an electric car.
The performance of the Mini electric is excellent, with acceleration and handling as good as the petrol version. The electric car has a real sense of athleticism with steering weighty and reacting immediately to inputs.
What are the key specs of the Mini electric? With a top speed of 93 mph, the Mini electric hits 0-60mph in 7.3 seconds, making it comparable to the BMW i3. It's one of the lightest EVs on sale with a 32.5kWh battery size.
Why should you consider the Mini Electric? 
Exceptional performance and acceleration
Stylish looking
Lightweight  design
MG ZS EV - Family-friendly and affordable EV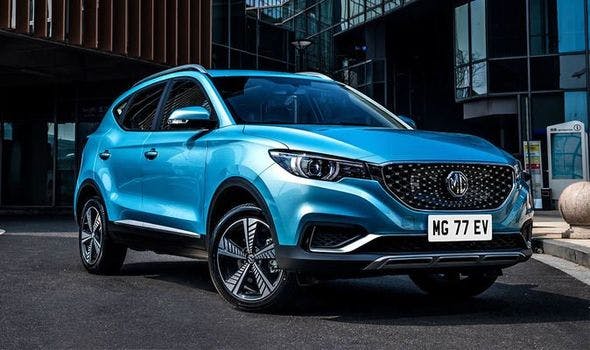 MG makes a bold claim that this is the first "truly affordable family-friendly electric car". But, there's much more than a good price tag to this new EV.
The ZS has good acceleration for a compact SUV with a 0-62mph time of 8.5 seconds. The "Excite model" will come with an 8-inch touchscreen display with Apple CarPlay and Android Auto compatibility, built-in navigation, and a panoramic sunroof.
The ZS EV majors on safety, as all models come with adaptive cruise control, lane keep assist, blind-spot monitoring and auto emergency braking, bringing the car to a halt if it detects an imminent forward collision.
Why should you consider the MG ZS EV?
Affordable electric car
Excellent safety features
Good interior features
Concluding thoughts
Do you have a favourite electric car from our article? We hope we have inspired you to research further into a certain model. The cars we have selected are by no means exhaustive though and with the future being electric, there is going to be more variety and new models released to suit different types of people. 
You can browse Onto's current range of electric cars on offer here.