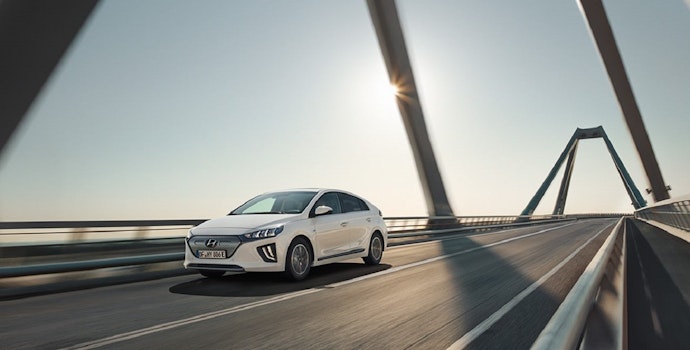 Introducing the New Hyundai IONIQ Electric Premium 38 kWh: What's new about it?
The new IONIQ Electric Premium 38 kWh is an improved version of the previous 28kWh model, with a more powerful battery, a longer range and additional connectivity features that will significantly enhance your driving experience.
With a smooth silhouette, sharp lines and a sleek interior, the IONIQ Electric Premium 38kWh gives drivers the ultimate in efficiency, comfort and performance. It delivers a remarkable 136 PS, and its battery gives you an improved maximum range of 193 miles WLTP but most importantly 155 miles real world. Just as impressively, you can charge it to 80% in just under an hour.
Here is a summary of our favourite new features: 
Blue Link: Cloud based voice recognition, remote start and stop, remote lock or unlock and control air conditioning,  charging can be remotely controlled and scheduled via the app.
eCall: Automatically dials emergency assistance if airbags are deployed or the call button located above the rear-view mirror is pressed. Relevant information (car information, time of accident, driving direction, airbag and impact sensor information) is sent to the local emergency service.
LIVE Services: up-to-the-minute information about weather, traffic, speed camera warning, street parking, live nearby-dealer information as well as identifying nearby charging stations and live POI Search.
10.3" split touch-screen
Android Auto and Apple CarPlay with new Multi-Bluetooth function: two phones can be connected at the same time.
 Redesigned 16-inch alloy wheels
Interior with blue ambient lighting: passenger-side, lower dashboard and centre console.
Eco-Driving Assist System: State-of-the-art technology to improve fuel economy
Hyundai SmartSense technology package
Smart Cruise Control with Stop&Go
Adjustable Regenerative Braking
Available for delivery Mid-January, for £449 per month with everything included.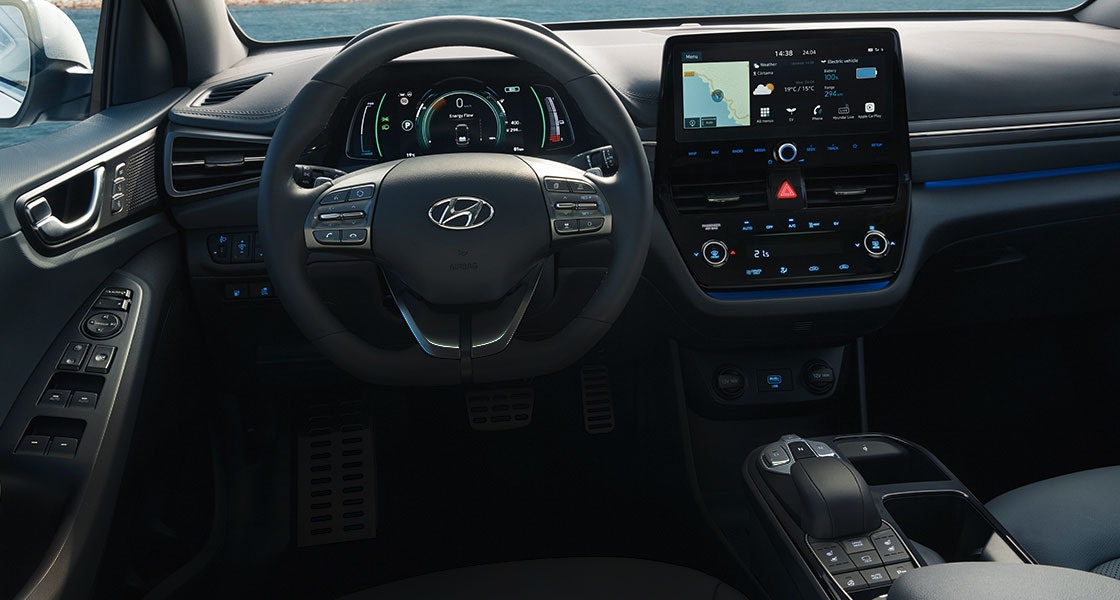 Interior design
At the centre, the new 10.3" split touchscreen is now sitting above the dash. Through this display, you can access Hyundai's new connected car service, Bluelink, that will give you information about routes, fuel stations, weather and traffic and with multichannel Bluetooth, two phones can be linked to the car at the same time, playing music via Apple CarPlay and Android Auto. 
You can also check in on your car remotely to monitor its charge level, set the heater in advance on a cold winter morning, receive health checks from the motor, air bags, and brakes to help make your journeys safer, more efficient and more comfortable.
This new fully equipped interior also provides a wireless charging pad, a heated D-cut leather steering wheel and heated front seats.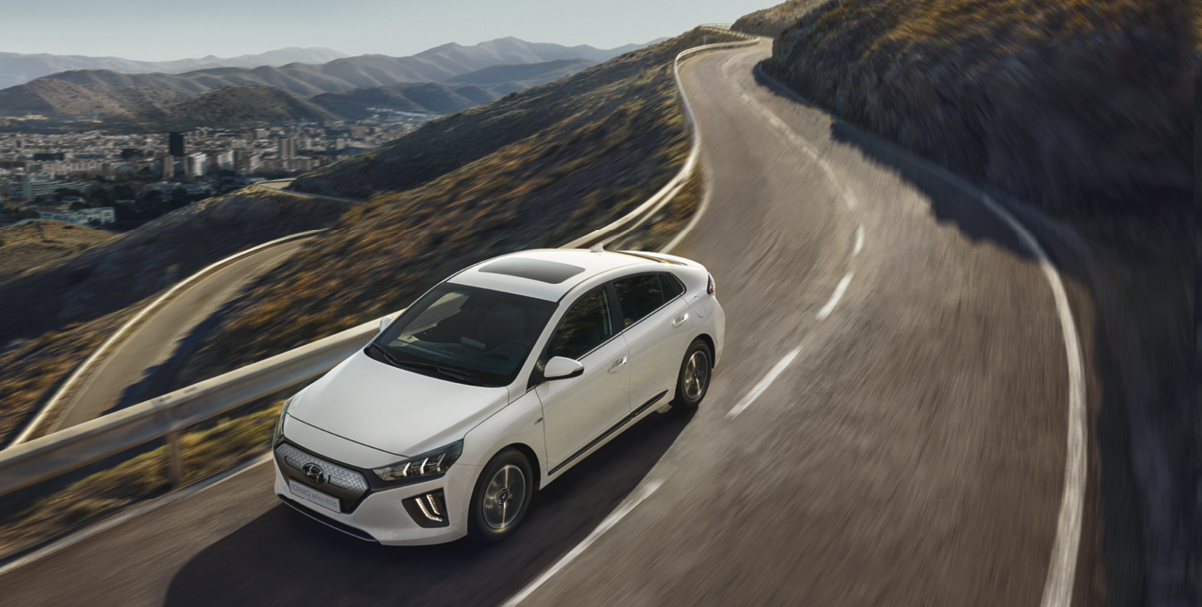 Exterior design
The new IONIQ's streamlined exterior creates far more than a striking, coupé-style silhouette. It creates an aerodynamic form that improves every aspect of efficiency. 
The LED lights are seamlessly integrated into the car's profile, and the side sill mouldings keep air close to its body as the front wheel air curtains redirect turbulent air. The roofline enhances the airflow even further, adding to a clean, stylish design that's built around ultimate efficiency.
On the front of the car, two sliding hatches on either side of the badge, will open automatically to help cool the hardware behind when necessary and then closes to reduce drag at speed.
Driving and controls
The powerfully responsive fully electric 136 PS powertrain offers excitement and instant torque for reassuring acceleration, keeping you safe when overtaking and pulling out of junctions. 
City or motorway driving is no issue for IONIQ Electric Premium 38 kWh, with a choice of Eco, Normal and Sport driving modes to ensure powertrain dynamics perfectly suit the road ahead. 
There's even some fun to be had from behind the wheel. The electric model's batteries sit flat in the car's chassis to give it a low centre of gravity, something the aluminium bonnet and boot also help with. As a result, the Ioniq corners flat and true – qualities the responsive steering helps you make full use of.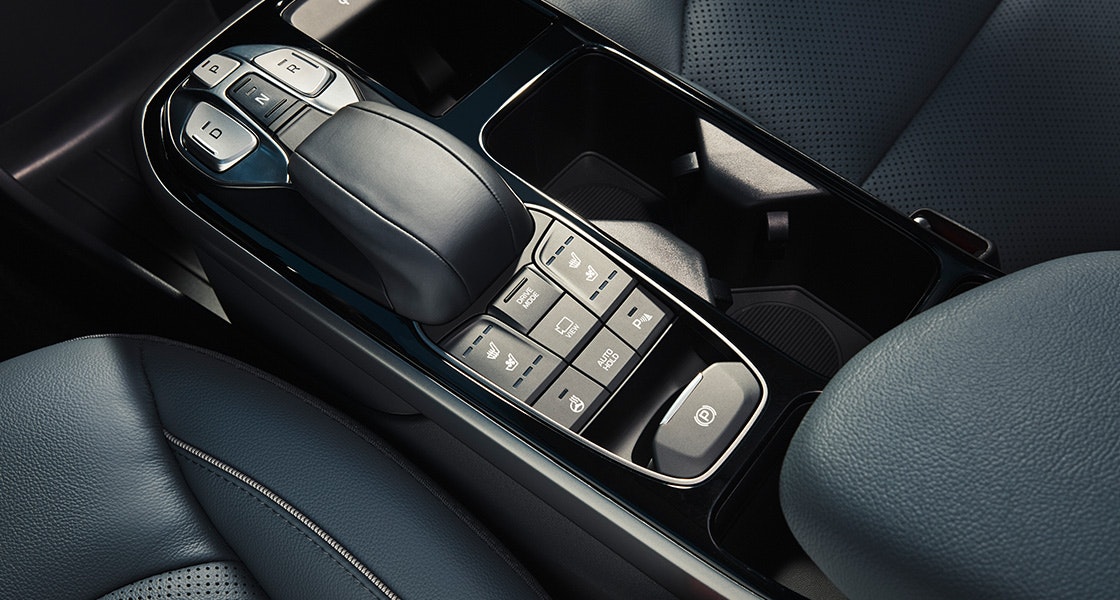 Comfort and convenience
The new IONIQ Electric Premium 38 kWh also comes complete with a range of advanced innovative driver assist technologies. The Lane Departure Warning System with Lane Keep Assist warns if you veer out of lane and applies corrective steering if necessary. Autonomous Emergency Braking helps avoid collisions with cyclists, pedestrians or other road users with visual and audible warnings and can even apply partial or complete braking if required. 
Rear radar sensors provide Blind Spot Detection when changing lanes or reversing, and Smart Adaptive Cruise Control keeps a safe distance between you and the vehicle in front. The cutting-edge combination of built-in radar, cameras and sensors takes care of you and other road users, allowing you to enjoy the drive and know that the IONIQ has your safety covered.