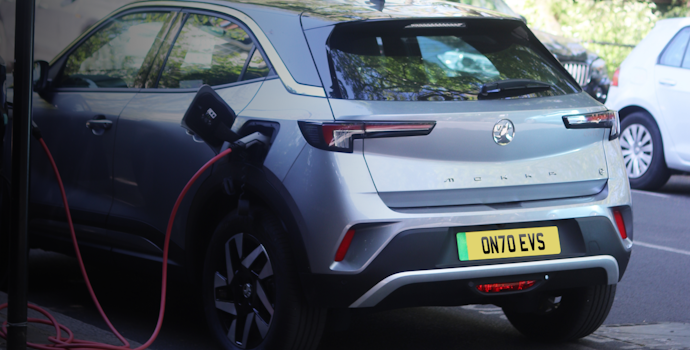 Finding London's Best Electric Chargers
London is not only a city known for its iconic landmarks and vibrant culture but also for its growing electric car charging infrastructure. Planning a weekend getaway in the capital? Don't worry about range anxiety or finding a place to charge your electric car – London has got you covered. In this article, we'll guide you through the best charging spots in the city, making your weekend adventure as smooth as possible.
We set off on a mission to find London's best electric car chargers in our Car of the Month - the Vauxhall Mokka-e. It charges from 20% to 80% in 40 minutes at a 50 kW rapid charging station, and in 7h at a 6.9kW charging station, so with that in mind, let's get to it!
What makes a great charger? Well first of all - having it included in your monthly electric car subscription! Within the Shell Recharge network Onto subscribers can get access to 20,000 charging points across the country, with a mix of slow, fast and rapid chargers. We also took into account the charging location, convenience and design on our London adventure… here were our five favourites!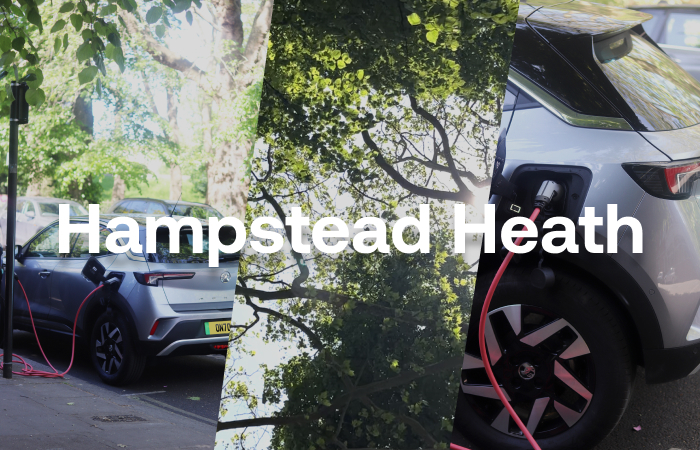 Hampstead Heath - NW3 2RJ
Charger Type: Source 6.9 kW
Why we love it: Simple, Spacious & Green 🌳
Parking: Free while you charge! (Usually £20 for 7h)
Miranda, Growth Manager - There's no better place to leave your eco-friendly car than next to the best green space in London! Charging next to Hampstead Heath is so simple and convenient, I'll be back here all summer.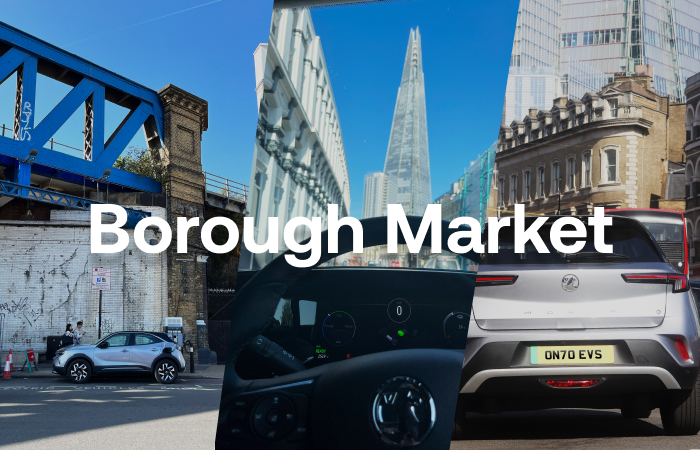 Borough Market - SE1 1TU
Charger Type: ESB 50kW
Why we love it: Speedy, Scenic & Perfect for ice cream 🍦
Parking: Free while you charge! (Usually £8 for 1h)
James, Comms Manager - It's quite a feat to pull up to one busiest lunch spots in London and get a temporary parking spot amongst all the chaos! This is a rapid charger so by the time you've finished wandering in the sun with your ice cream (I strongly recommend Gelateria 3Bis), you'll have boosted your's and your car's battery!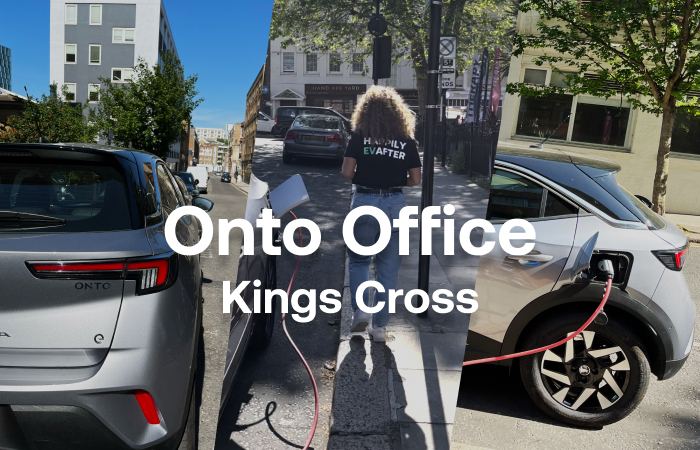 King's Cross - WC1X 9JH
Charger Type: Source 6.9 kWh
Why we love it: Free parking, a trip to HQ & tasty croissants 🥐
Parking: Free while you charge! (Usually £49 for 7h with stay limits)
Nico, Senior Data Analyst - The most convenient charging station for me is the one right by Onto's London HQ in King's Cross. When I'm in the office it's a great start to the day when you get that space - it also means free parking and a full charge for the journey home! The first thing I do after plugging in is head to the "Aux Pains de Papy" bakery across the road for a delicious croissant (claimed to be the best in London!) and coffee, then I'm ready to start the day.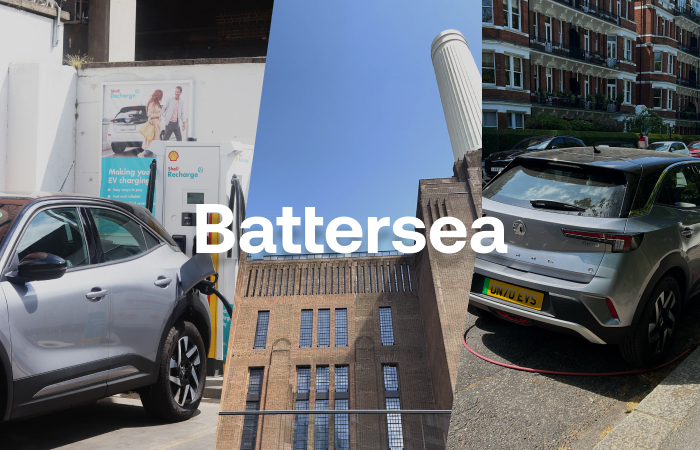 Battersea Power Station
Charger Type: Source 6.9 kW (SW11 4BD) & Shell Recharge 180 kWH (SW8 4NE)
Why we love it: Free parking, shopping time 🛍️, 2 different charging options
Parking: Free while you charge! (Usually £4 per hour) Please note the stay limit at the Shell Recharge station is 2 hours.
Eleonore, Retention Manager - Love going to the new Battersea Power Station, a great place for shopping, and there is always something fun to see or do. Combine that with free parking and it's a no-brainer. Near Battersea Power Station you'll find a Source London slow charger and a Shell Recharge rapid charger, so you can adapt where you park to how much time/battery you need!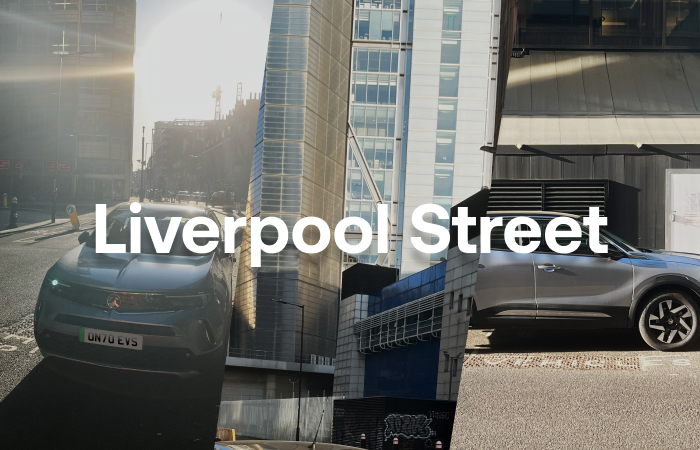 Liverpool Street - EC2A 2BA
Charger Type: Source 6.9 kW
Why we love it: Super central, Free parking, Eataly 🤌
Parking: Free while you charge! (Usually £35 for 7h with stay limits)
Jat, Graphic Designer - East is my favourite area of London and being able to charge while exploring Liverpool Street, Brick Lane and Shoreditch is ideal. It's a slow charger but it's really easy to use, plus it gives you more time to walk around and take in the sights and smells. We ate at Eataly on our trip, and would definitely recommend it!
Where are your favourite electric chargers in London? Check out our social media channels and get in touch with us to tell us which ones we missed! Please note there are no set rules when it comes to paying to park whilst your car is charging. Generally, you'll find that it'll be free to park up while your car recharges, but make sure to check the signs around. And don't forget to follow the charging etiquette and not stay plugged in once you're charged.
If you're interested in trying out the Vauxhall Mokka-e and the London charging locations for yourself, Onto offers a flexible monthly subscription that allows you to drive an electric car without the commitment of leasing or owning. After driving it around with the team, here are our favourite features:
For a team of five it was a surprisingly spacious trip.
The built-in Navigation system on the touch screen made it super easy for us to locate chargers.
We loved the sensors and cameras, making it super easy to park.
And to celebrate our Car of the Month, you can save 20% off your first three months of Mokka-e subscription when you apply the code 'MOKKA20' at registration! Act fast, it expires 19th June. Applicable to new customers only.