Renault Zoe ZE50
Iconic R135 Rapid Charge
190
Real World Miles
|
2020 Model
•

Practical

•

Great value

•

Smooth drive
Your perfect everyday car. A smooth, comfortable ride with an impressive range means the daily commute becomes simple and stress-free, combine that with great value and the Renaut ZOE Iconic is a perfect choice.
The design embodies practicality with its smooth exterior and fuss-free interior, with added tech to make any journey long or short feel effortless.
Why buy any car?
Renault Zoe ZE50

Iconic R135 Rapid Charge

| | | Leasing |
| --- | --- | --- |
| Monthly payment | £389 | £404 |
| Upfront deposit | £0 | £1,211 |
| Commitment Duration | 1 month | 24 months |
| Miles per month | 1,000 | 1,000 |
| Insurance & Breakdown | Included | £40 |
| Free Charging* | Included | £47 |
| Maintenance & Servicing | Included | £15 |
| Fancy extras  | Included | No metallic paint |
| Total monthly cost | £389 | £556 |

*This is a comparison as of May, 2021 & Onto being a car subscription. No ownership is possible. For more information visit our

FAQs
Favourite interior features

Forward focus

Intuitive design means the 7-inch screen of the built-in sat-nav sits at eye level so you never have to take your eyes far from the road.

Favourite interior features

Added tech

Great value doesn't mean compromising on amazing tech. Loaded with great features like: wireless phone charging, lane assist, traffic sign recognition and climate control - we make sure you get a lot of bang for your buck.

Favourite interior features

Adjustable steering wheel

This car is packed with great features to make your journey even easier, our personal favourite is the adjustable steering wheel. Tilt it up or down to allow you to have control over your driving view and the maximum comfort.
Favourite exterior features

Long range

With a battery that comfortably lasts 190 miles on a single full charge, you can get in and go most days without thinking about making a charging detour. That's one less thing to worry about during the morning rush.

Favourite exterior features

Style and space

As a full five-seater with a 338-litre boot, we think the Iconic works perfectly if you need to grab the family for your weekly shopping trip. The perfect mix of compact look on the outside and bags of space inside.

Favourite exterior features

Safety features galore

With rear parking sensors, lane keep assist, traffic sign recognition and more. The Iconic makes sure you'll have everything you need at your fingertips to ensure a smooth and safe driving experience.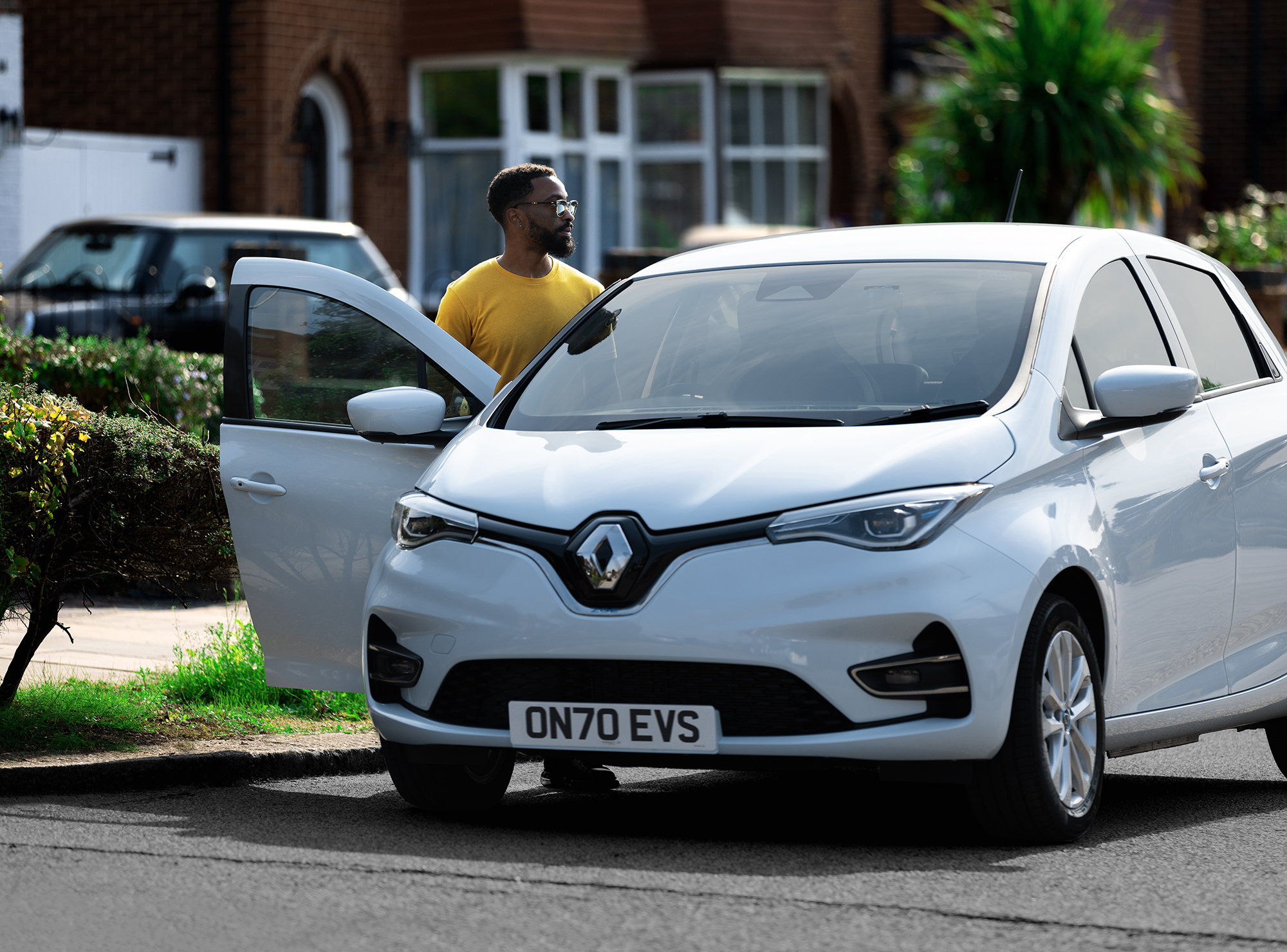 Here's what Renault ZOE50 Iconic customers have to say:

The Renault Zoe is a dream to drive

"The Renault Zoe is a dream to drive, its great range and nippy acceleration making it the perfect all-rounder. The interior is packed with features to make driving effortless and the android auto, in particular, is great for longer journeys." Elliot, from Birmingham
Model Year

2020

Real World Range (mi)

190

Battery (kWh)

54.7

0-62 Mph (sec)

9.5
People also viewed
GT Line R135 Rapid Charge
190 mi
Real World Range
|
2020 Model
•

No deposit

•

Insurance

•

Charging

•

Maintenance & Servicing

•

Breakdown cover

•

Road tax

•

24/7 support