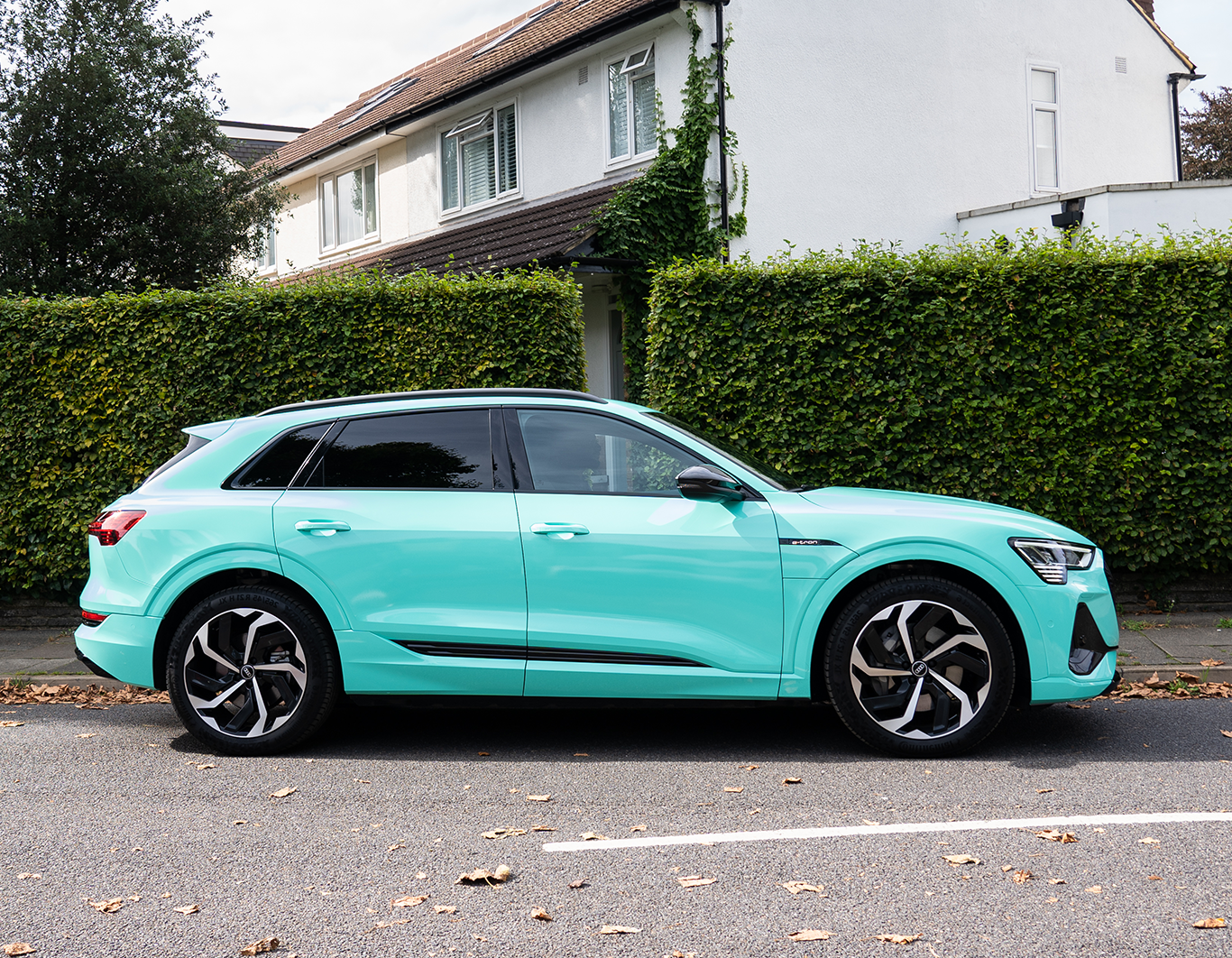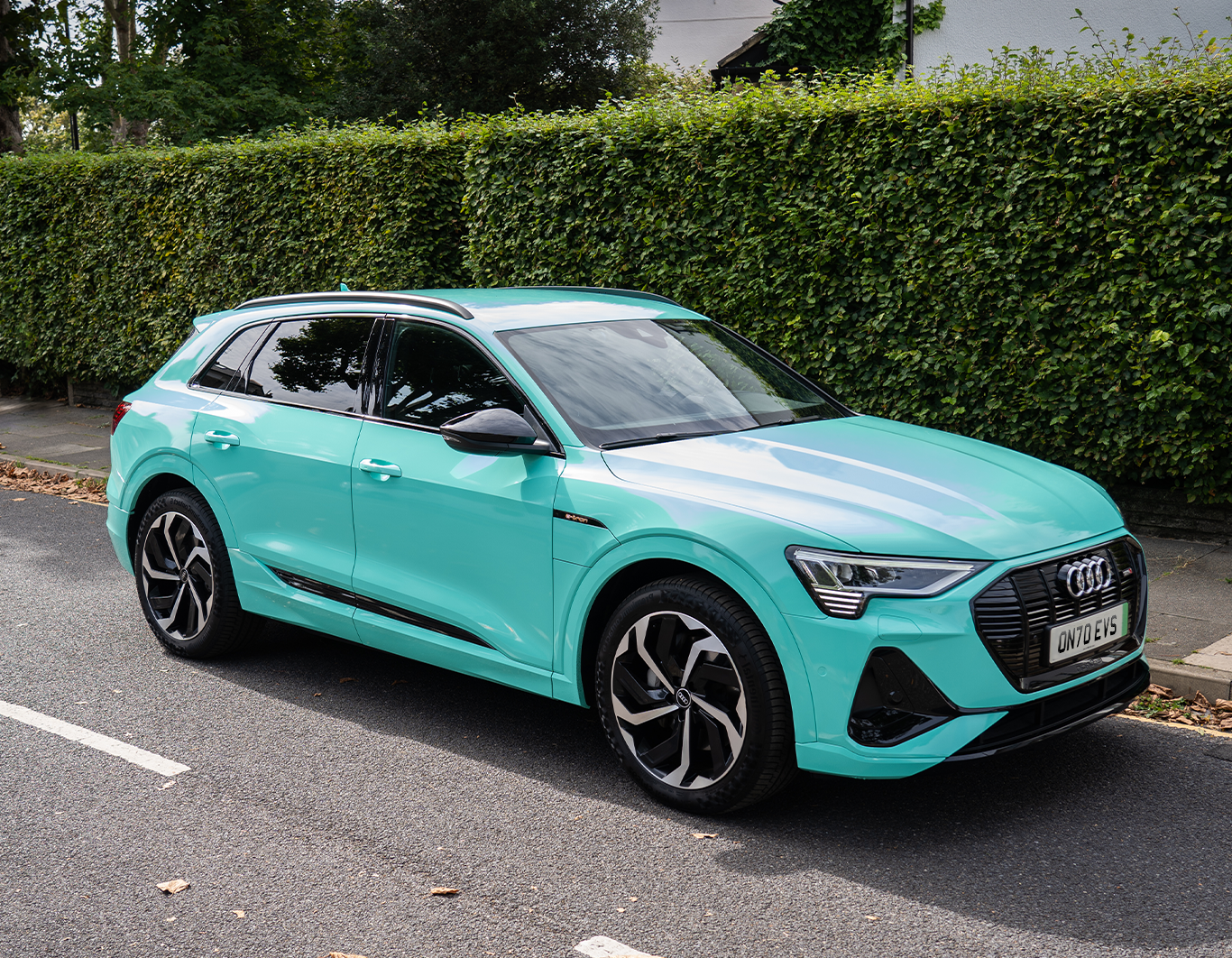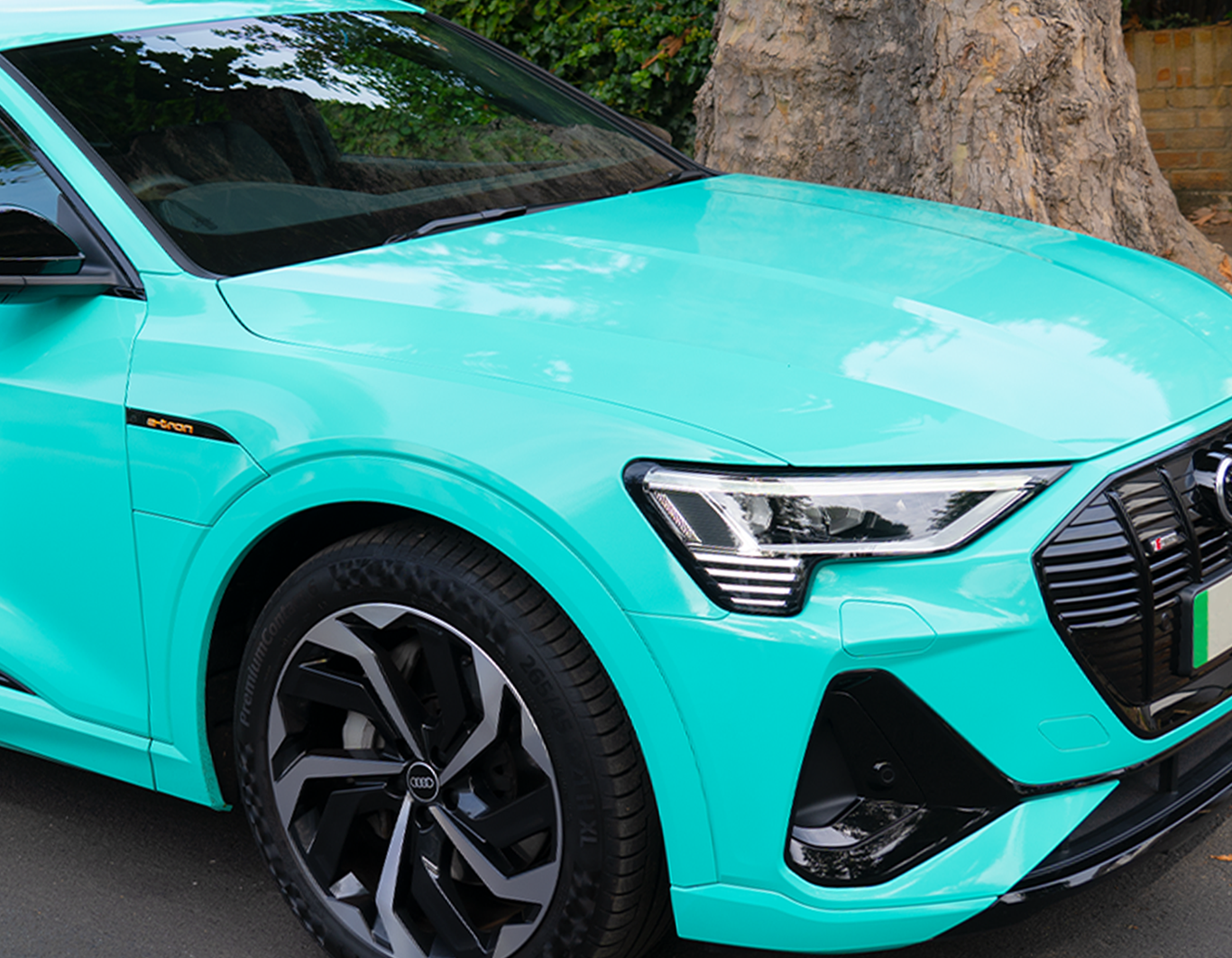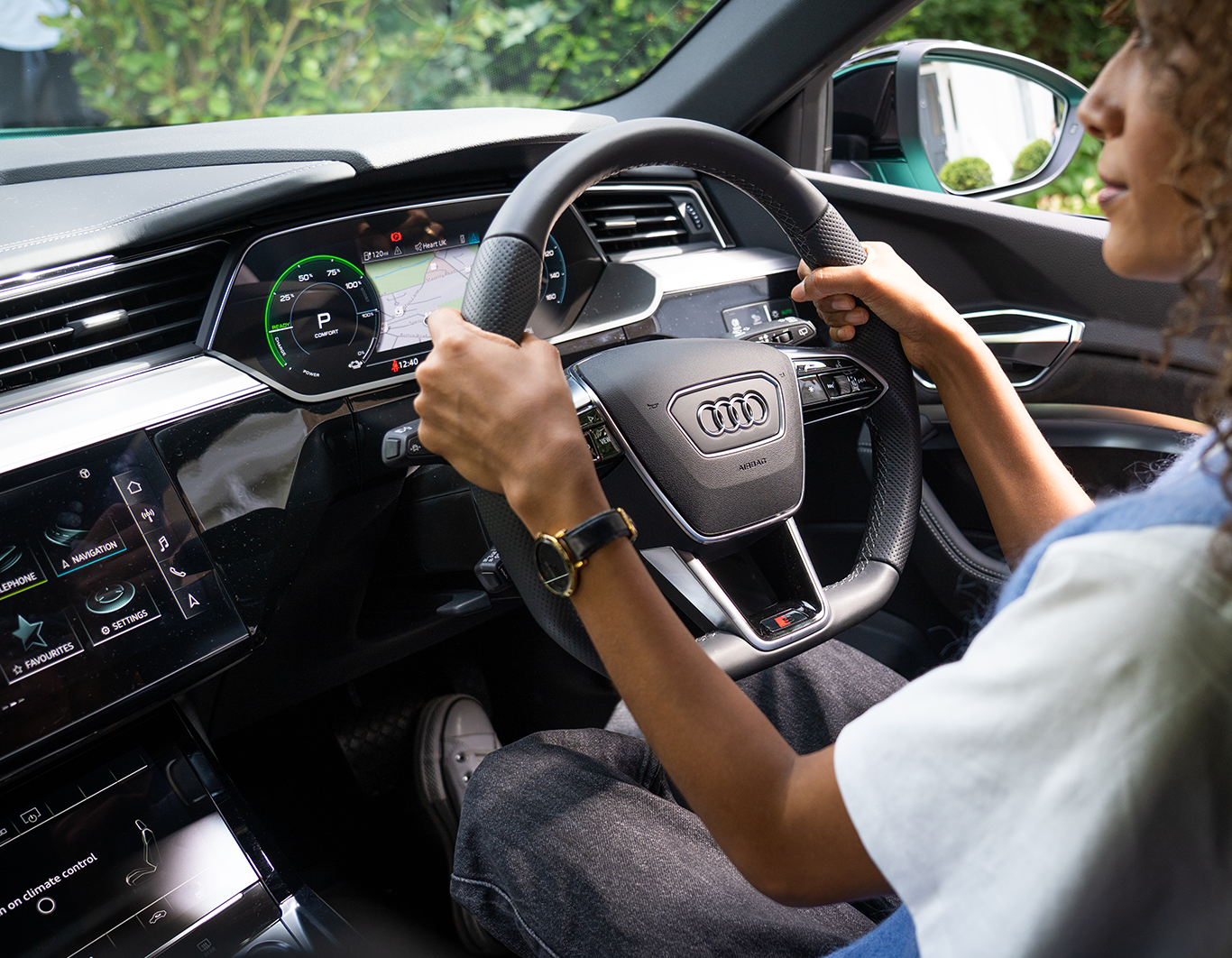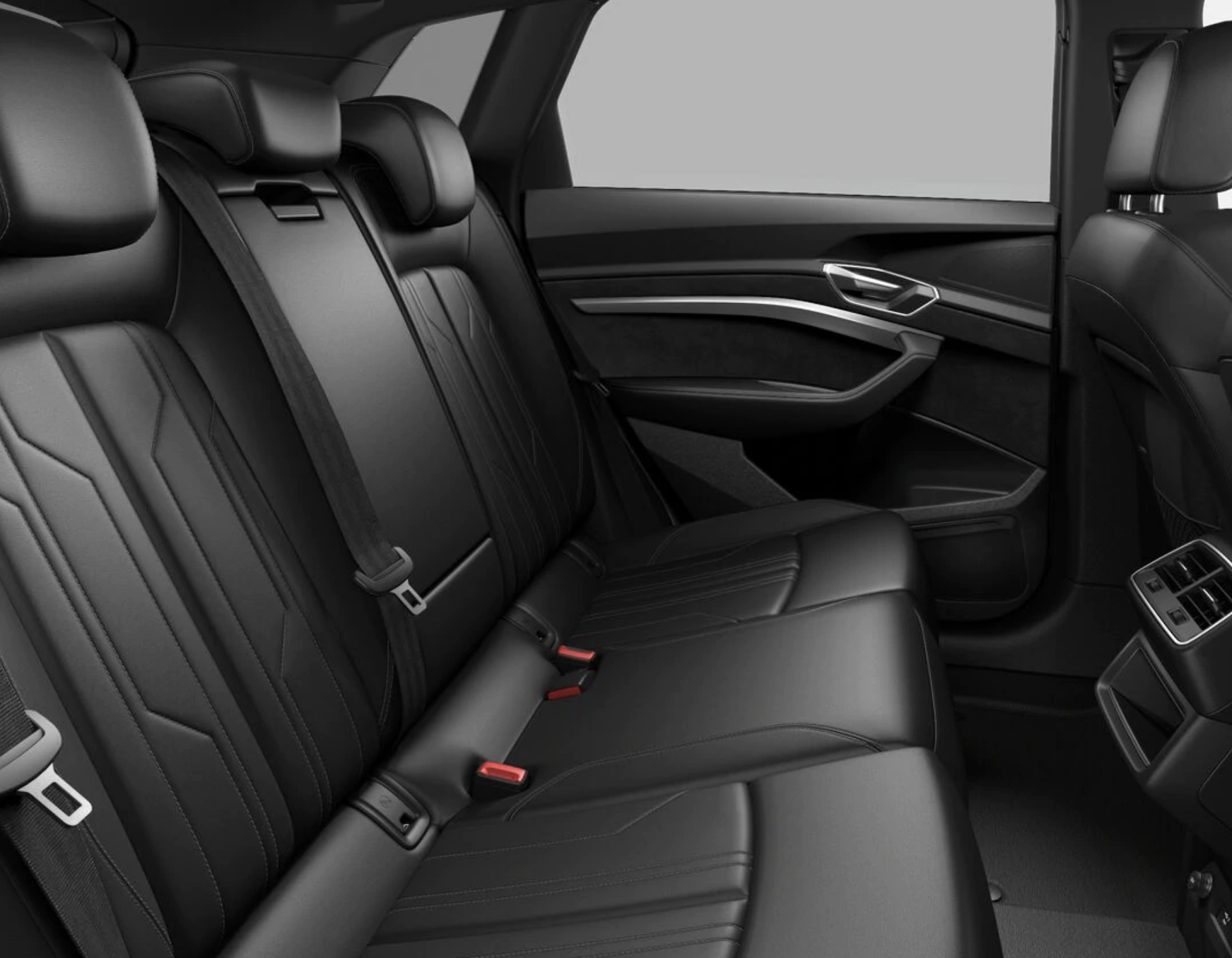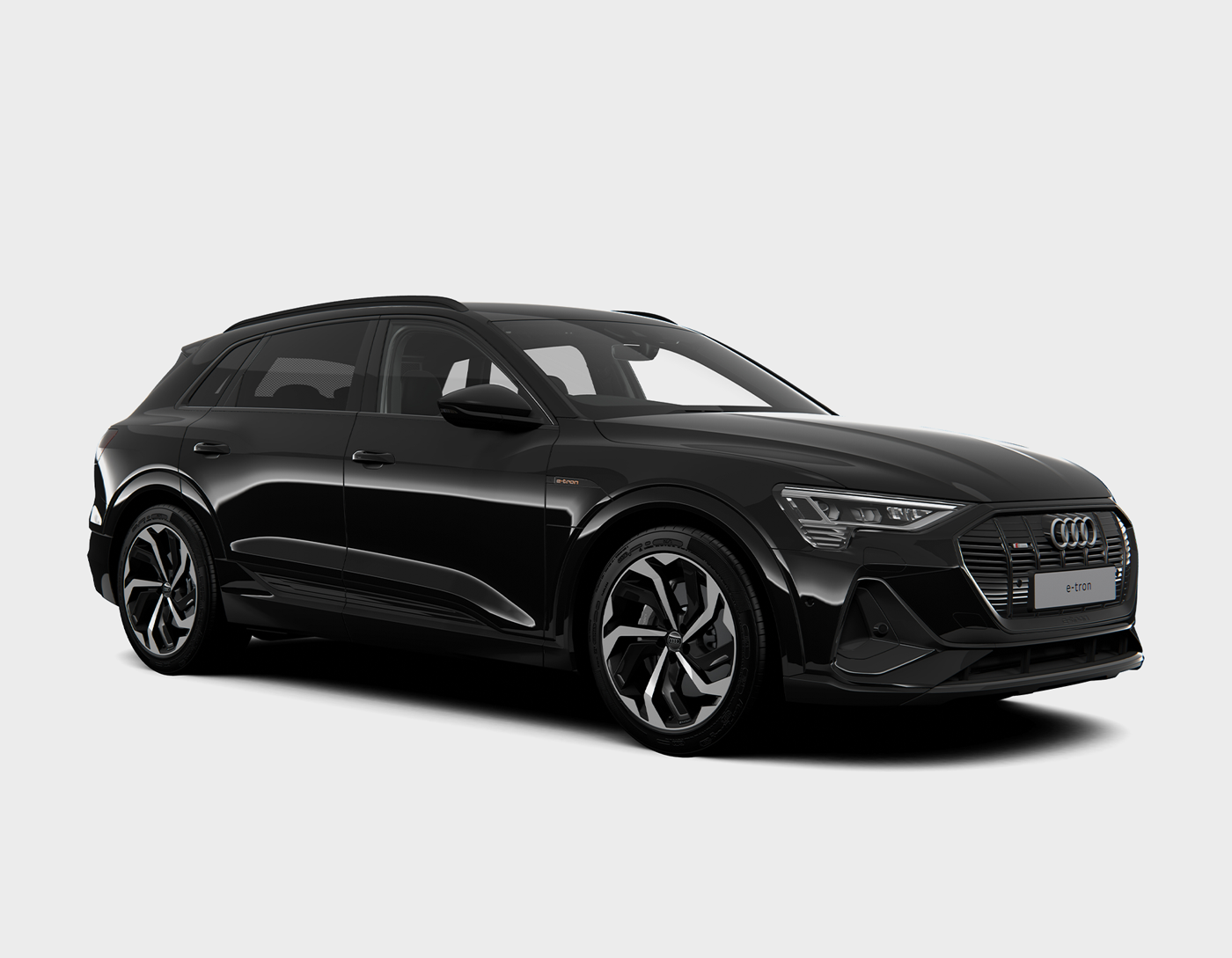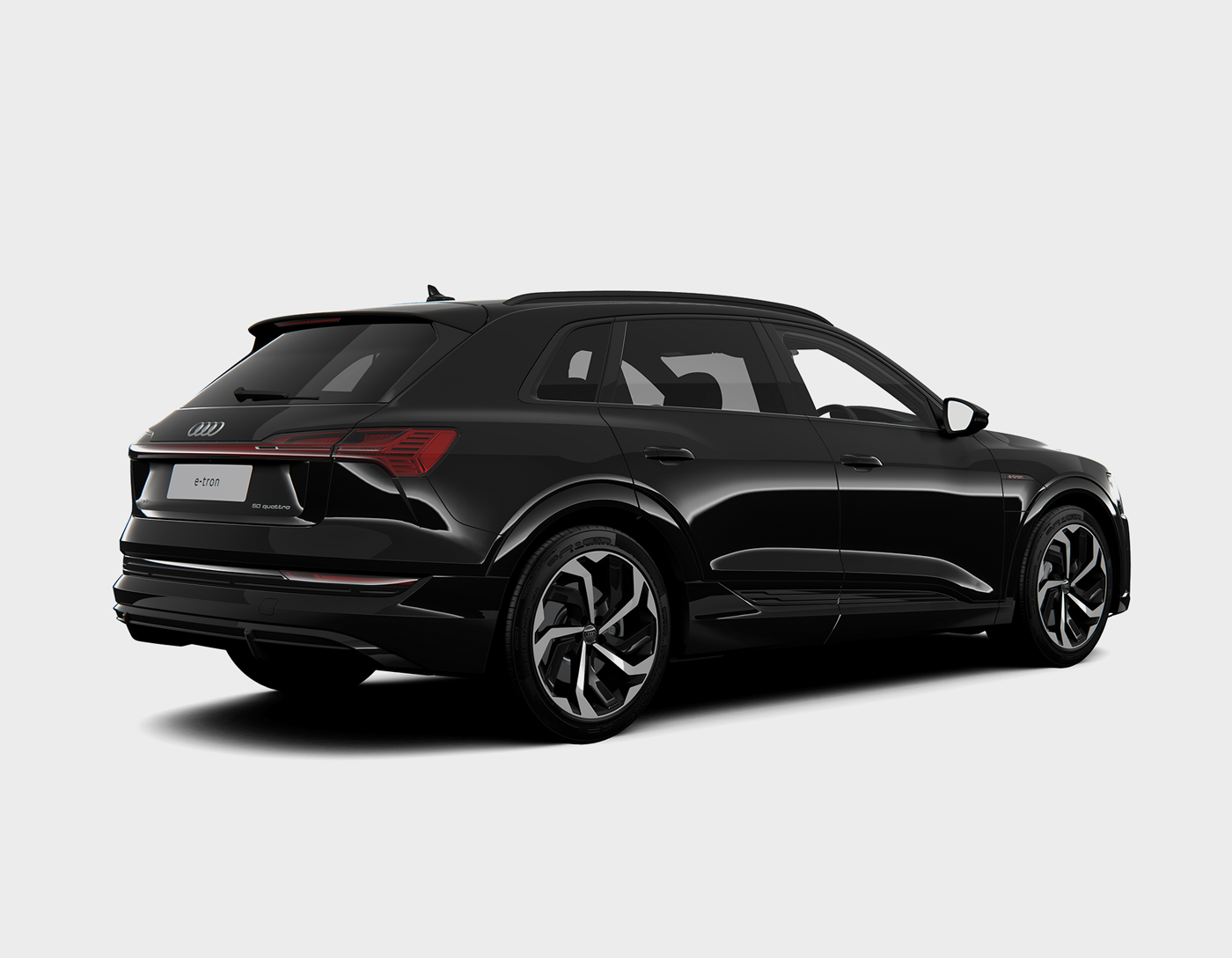 Audi e-tron
55 Quattro Black Edition
220mi
Real World Miles
|
21 & 22 Model
•

Smooth driving experience

•

Dual-touchscreen

•

Black styling pack
Your perfect top-end SUV. Don't compromise on a thing: performance, space, style and tech all come together in the e-tron Black Edition to make for an unforgettable driving experience.
Responsive and intuitive driving features maximise driving experience while the catalogue of comfort extras make for one of the smoothest EVs on the market.
*To book this car you must be over 30 years old. Electric Green colour shown in photos is not currently available.
Audi e-tron
55 Quattro Black Edition
• Zero deposit • Insurance +
Why buy any car?
Audi e-tron
55 Quattro Black Edition
| | | Leasing |
| --- | --- | --- |
| Hassle-free | ✔ | ✖ |
| Upfront deposit | ✖ | ✔ |
| Monthly commitment | ✔ | ✖ |
| One flat fee covers all+ | ✔ | ✖ |
| Delivery from 72 hours | ✔ | ✖ |
| Cancel or swap anytime | ✔ | ✖ |
| Guidance & support | ✔ | ✖ |
| Total monthly cost | £1,369 | £1,465 |
+Monthly payment includes insurance, breakdown cover, road tax, London Congestion Charge, London DART charges & public charging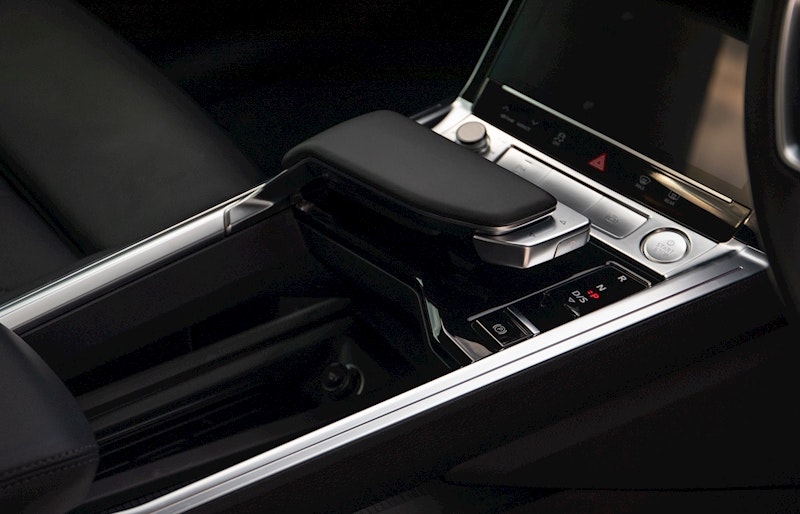 Favourite interior features
Comfort with class
A whole range of comfort features including fully electric adjustable seats with four-way lumbar support, parking assist and an electric tailgate, mean the e-tron is one of the most lavish and comfortable electric cars in the world.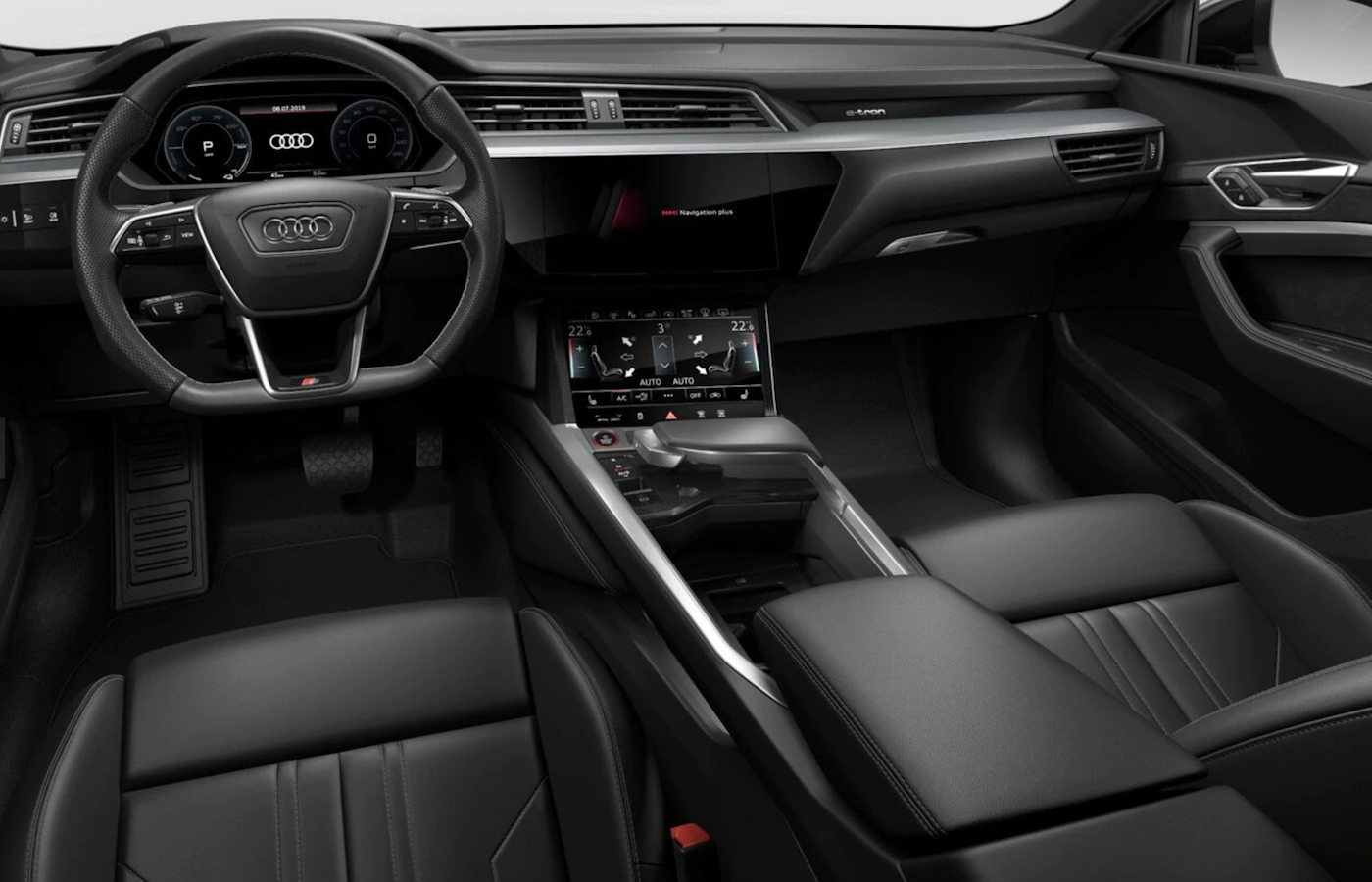 Favourite interior features
The wow factor
A futuristic dual-touchscreen central console is complemented by the plush interior with premium chrome elements. Finished with an extended leather interior trim and privacy glass so you can enjoy the sights without becoming one yourself.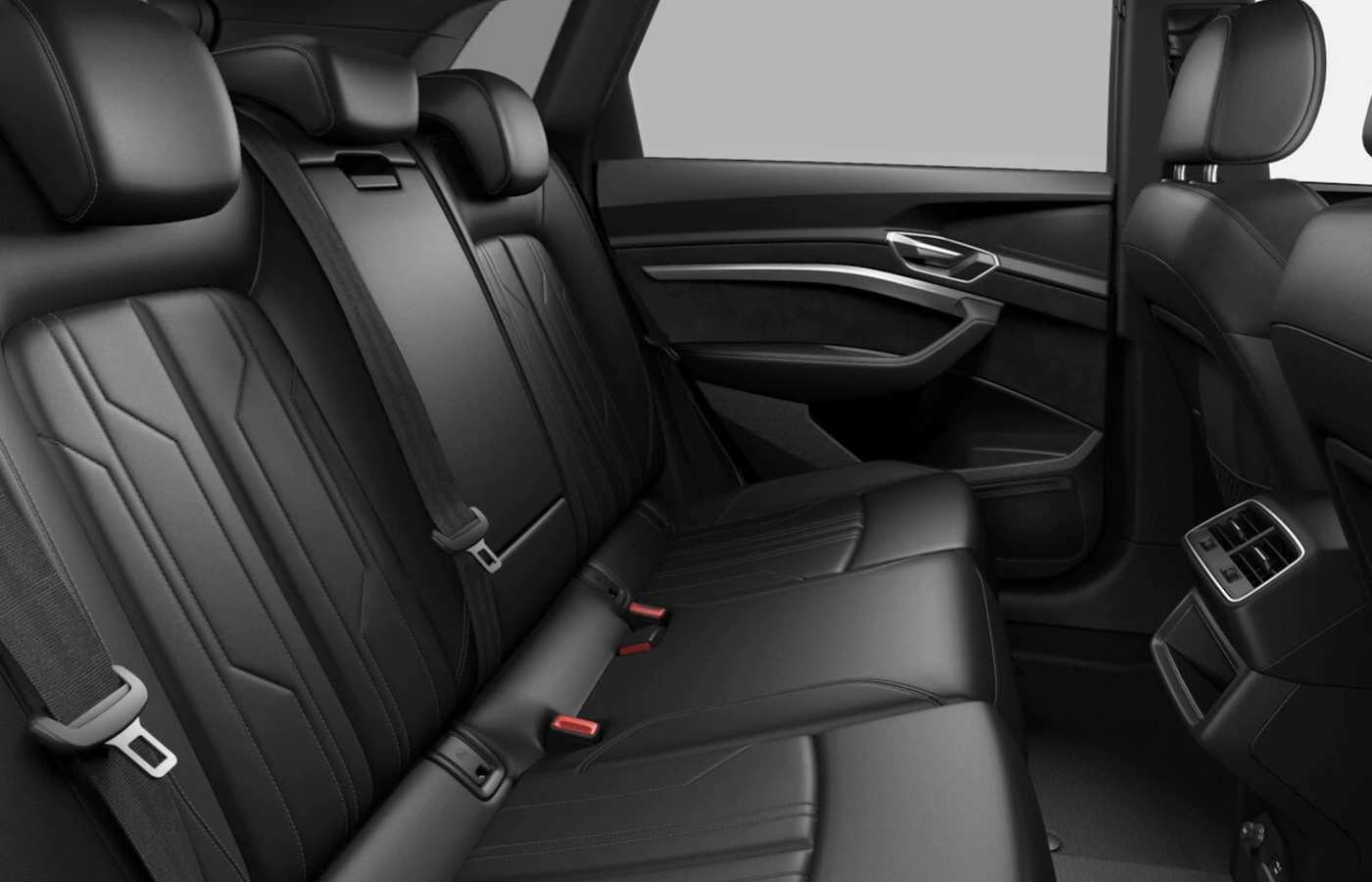 Favourite interior features
Music your way
With a DAB radio, Apple CarPlay/Android Auto smartphone mirroring, two USB ports and a 10-speaker stereo that includes a subwoofer, whether you're listening to the radio or plugging in your own playlist you can be assured of crystal clear sound from any seat.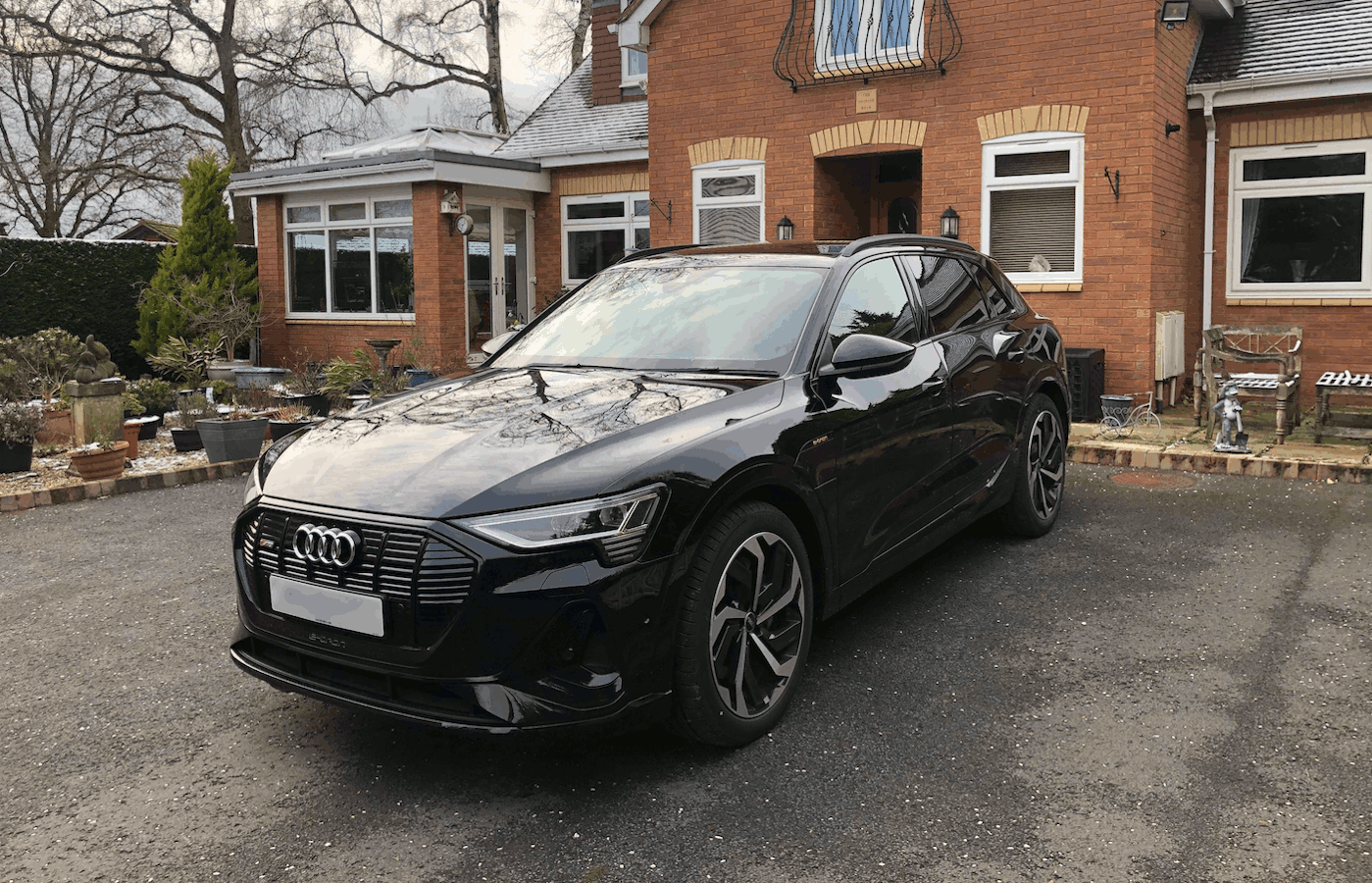 Favourite exterior features
Sporty look
This car is everything turned up to 11. The Black Edition features a sporty look with a black front grille, window surrounds, trim strips and 21-inch wheels. State of the art matrix LED headlights and a black styling pack to live up to its name, this car will do anything but blend in.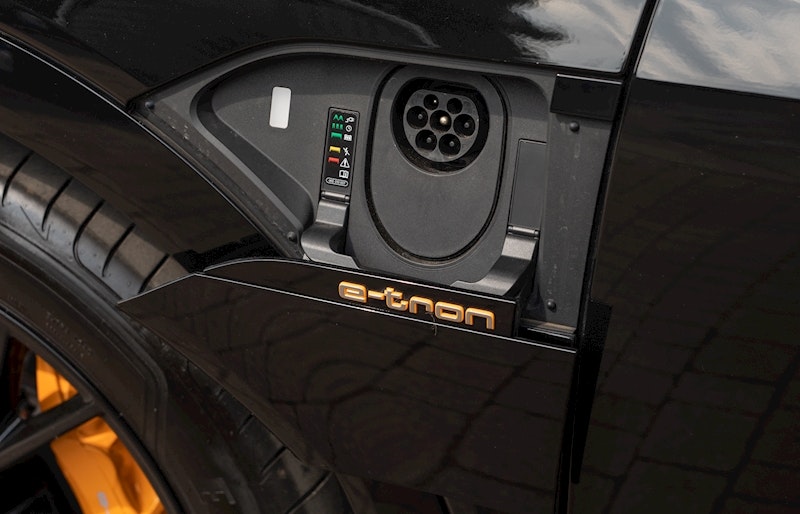 Favourite exterior features
Ultimate performance
A 95kWh battery pack and two electric motors mean a massive 402bhp, for 0-62mph in 5.7sec. Not bad for the ultimate luxury SUV that can go for 250 miles on one charge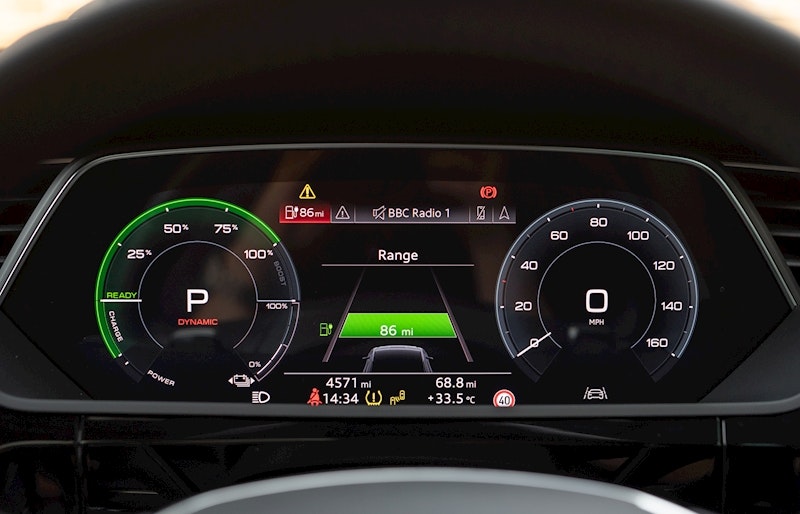 Favourite exterior features
Smooth sailing
With extremely consistent response from the brake and accelerator, and top tier regenerative braking it's a much smoother car to drive than most other EVs on the market. That combined with the adjustable sports suspension means the e-tron deals with any bumps in the road with ease.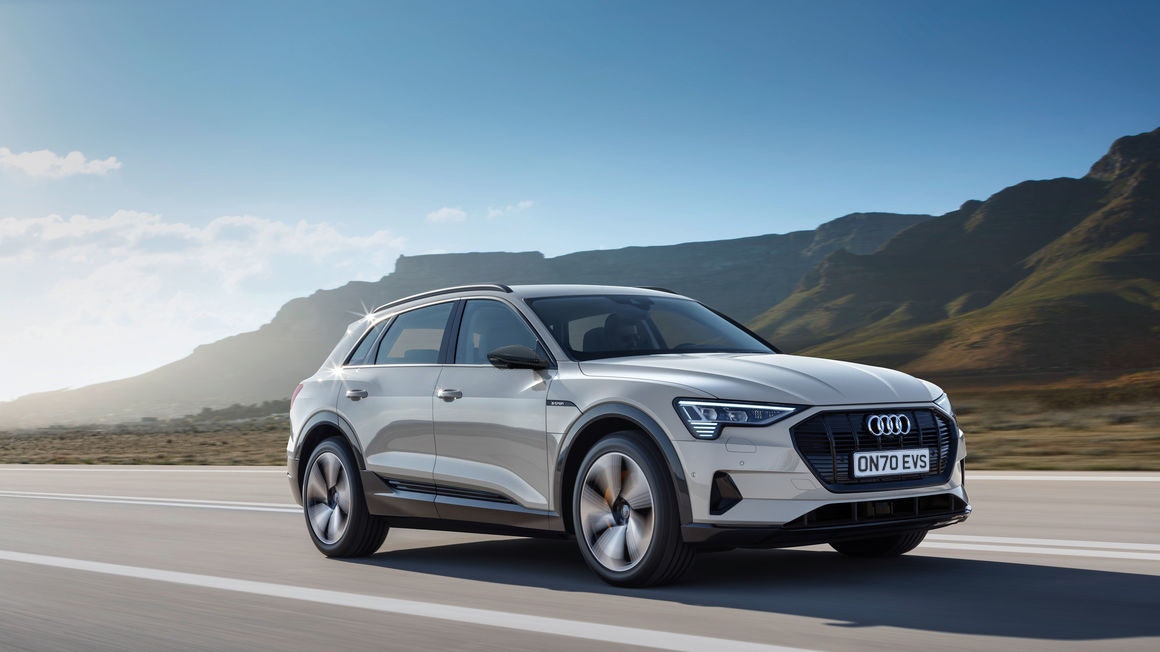 Our team tested and this is what they have to say:
The e-Tron is such a cool and luxurious car
"The e-Tron is such a cool and luxurious car. Huge interior space and loaded with features – I especially like the haptic buttons on the touchscreen and the interior night-time lighting! It's a really smooth drive and has a great presence on the road, but it can really move if you put your foot down!"
Model Year

21 & 22

Real World Range (mi)

220

Battery (kWh)

95

0-62 Mph (sec)

5.7
People also viewed