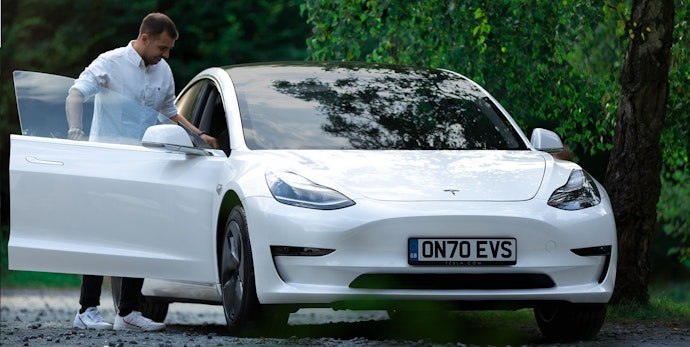 Tesla Model 3: Key Features & Updates
If you're thinking to switch to an electric vehicle with environmental benefits, a good range and the latest technological features, chances are you have considered a Tesla. If that is the case, you may want to take a look at this article, to shed light on the key features and benefits.
This blog aims to answer any questions you might have about driving a Tesla Model 3 and provide you with more insight. We start by reviewing the debate about the 'full self-driving capability' feature announced by Musk back in 2016. 
What are the latest updates with Tesla's full self-driving capability (FSDC)?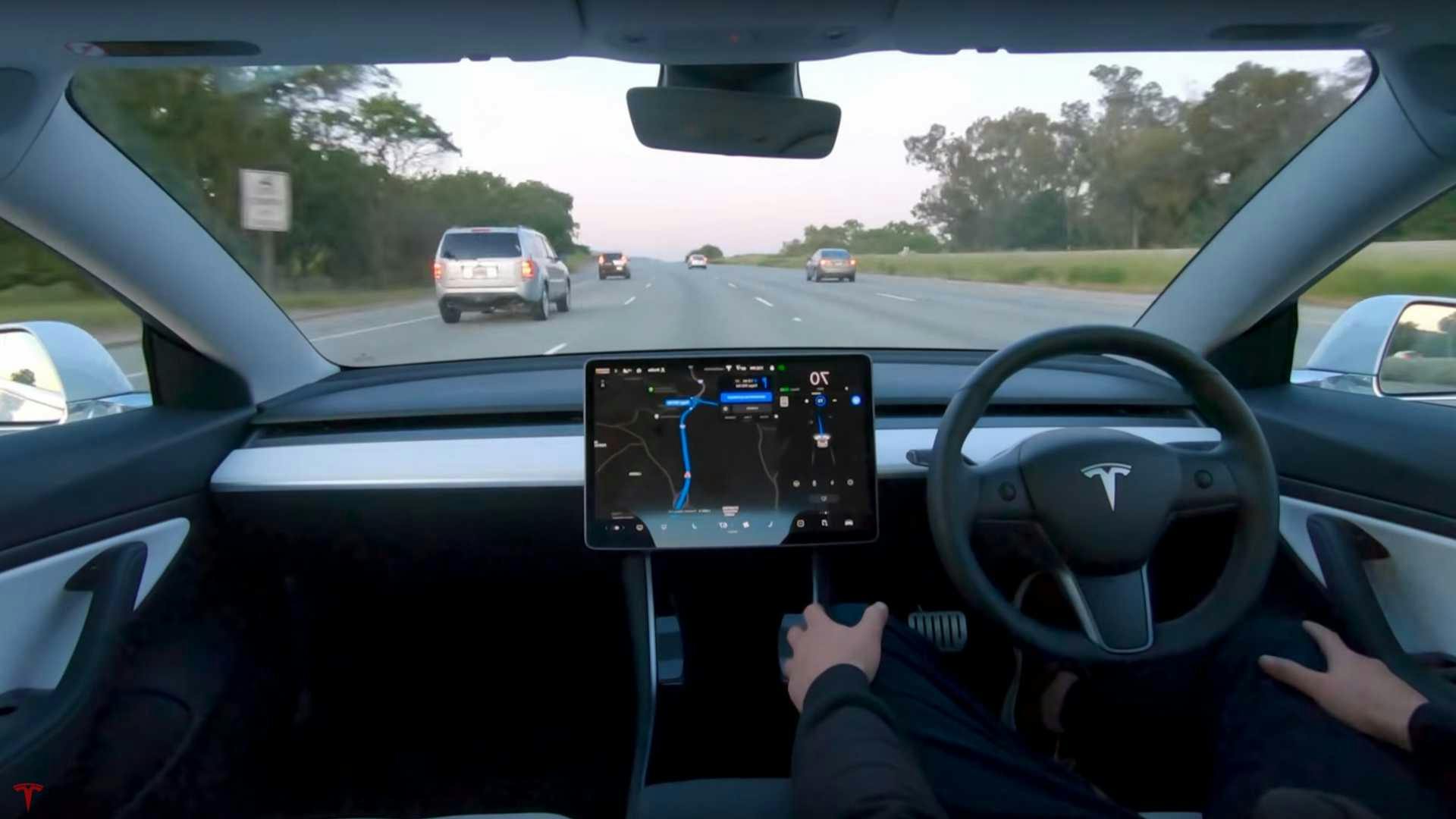 If you've been keeping up to date with the conversation around FSDC, then you'll be aware of the controversy associated with this feature.
But, for all those who are new to this topic, first, you'll need to understand the difference between Tesla's two autopilot packages:
Regular Autopilot: Features automatic steering on highways and traffic-aware cruise control
Full Self-Driving Capability: Guides the car from "on-ramp to off-ramp" by suggesting and making lane changes, navigating highway interchanges, and proactively taking exits. But, arguably more revolutionary are the parking features, which include auto parking for both parallel and perpendicular spaces, plus a feature that enables you to summon your car from its parking space to "pick you up"
If the Full Self-Driving Capability mode has caught your eye, then the good news is that they are features available on the Model S, X and 3.
Further good news is that technology and safety improvements are only going to make these models more sophisticated. 
FSDC updates proposed to be coming soon include, the ability to recognise and respond to traffic lights and stop signs, as well as automatic driving on city streets. 
Before moving on to the next topic, we'd like to leave you with our favourite quote from Elon Musk "Buying a car that cannot upgrade to full self-driving is like buying a horse instead of a car in 2019. Musk also says that by 2020 he wants to have over one million cars with self-driving software available. 
What are the latest software updates on Tesla Model 3?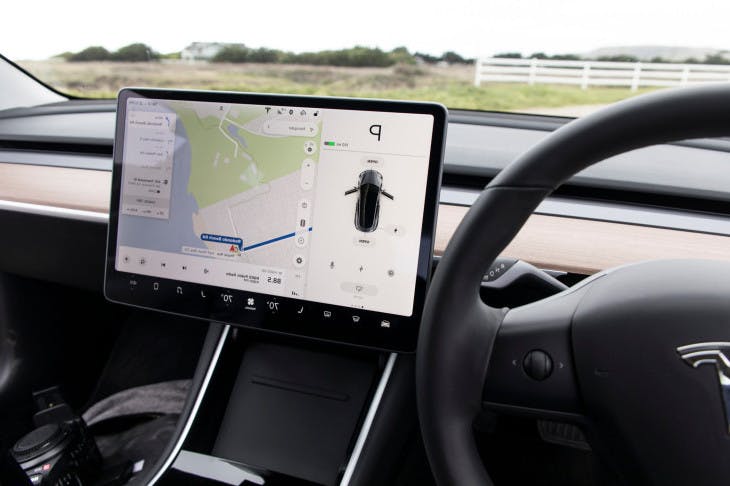 Tesla Model 3 continues to get better and better thanks to new software updates. Tesla released several new software features for the Model 3.
When you hear of a software update, do you still think of a mobile phone? If so, it might be difficult to get your head around a car needing to update. For many EV enthusiasts, the concept is already well known, but for most people, this may come as a surprise. 
Through Wi-Fi, The Tesla Model 3 receives over-the-air software updates that enable new features and improve existing functionality.
It will notify you on the centre touchscreen display, giving you the option to install an update immediately or schedule it for later. 
Tesla rolled out its latest version 2019.12 on April 18th, 2019. Here are some of the updates:
High-Speed Performance: Maintain torque and power for greater periods of time when driving at high speeds." 
Tire Pressure Monitoring System (TPMS): Customise when the TPMS sensors will trigger an alert based on current tire pressure, instead of the default factory value. This is technical stuff, but the new updates are useful for track enthusiasts who drive their vehicles around a closed circuit. Until now, TPMS warnings appear when a driver is operating their car, but the new update will stop this, giving better performance for track enthusiasts that have a preferred type of tire, wheel, and air pressure setting. 
Top speed increase: Peak power of a Model 3 has been increased by around 7mph (5%). 

Tesla Model 3 dashboard features and how to customise?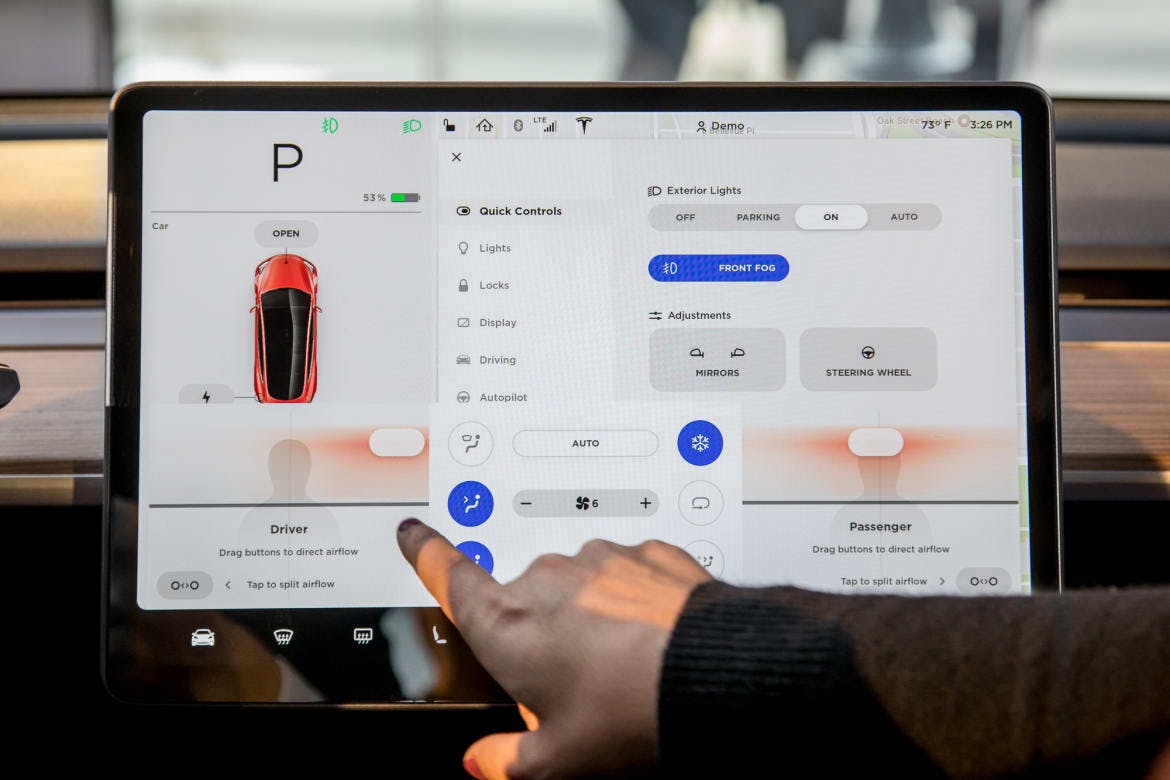 If you're into the interior features of EVs then you won't be disappointed with the Model 3, which comes with a 15-inch touch screen mounted in front of the dashboard and is the central command for basically every non-driving function in the vehicle.
In it are a number of menus, controlling everything from audio to navigation to climate control to lights to locks to regenerative braking levels.
The touchscreen has the high-quality appearance of an Ipad with crisp, clear graphics and an IOS-like screen menu. Here are a few features which you might be interested in:
Dashcam: We start with one of the least extraordinary interior features. But, nonetheless dash cams are now available to protect your car via the 9.0 software update, whereas previously drivers had to supply their own.  
Autopilot: As previously featured, it can be used for advanced cruise control, braking, and steering. But, drivers should show caution, as it is not to be left independently yet. 
App selection: By opening the app selection at the bottom of the giant screen, there is a range of apps available including, Calendar, energy, web browser, rearview camera, phone, and charging. 
Built-in charging docks: In the Model 3 are charging docks in the centre stack for iPhone and Android.
Obstacle-aware acceleration: The car's proximity sensors help to prevent drivers from crashing at lower speeds, for instance preventing heavy acceleration when parking.
App design:  Open apps can be made larger by swiping upwards, causing them to expand over the last app you were looking at, which is more straightforward than previous versions and saves you having to take your eyes off the road.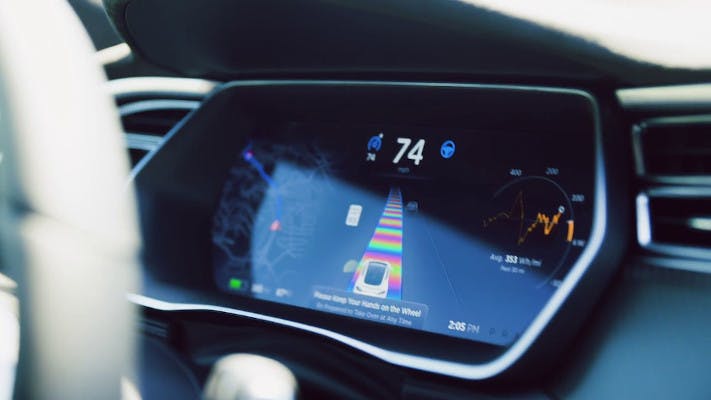 Autopilot and Suspension extras: Moving on to some of the more extraordinary features of the Model 3, there is Mario Kart's Rainbow Road on the autopilot interface and a function for turning the car's icon on the suspension settings page into James Bond's Lotus Esprit submarine. 
Navigation system: As if a 15-inch screen for navigation wasn't enough, the Model 3 also comes with some quirky features, including the Mars mode, which switches the navigation map to the surface of Mars. 
Notepad or doodling feature: If you need to take notes or even pass some time then there are two features on the Model 3 for recording information. 
Games and extras: The new versions of the Model 3 come packed with video games, including classic Atari Video games, controlled by scrolling buttons on the steering wheel. As well as this, other games are Asteroids, Lunar Lander, Missile Command and Centipede. To top it all off the Model 3 also comes with 'Celebration Mode' where music, flashing lights and wing doors can be opened to perform a showcase. 

There we have some of the main features of the Model 3, but there are likely to be much more added soon as Tesla and Elon Musk continue to update and improve the systems. 
There have been rumours that Musk is planning to add racing games where the steering wheel and pedals act like the controls, but this hasn't been confirmed yet. 
Conclusion
Now that you know some of the features and updates of the Tesla Model 3, Let us know which are your favourite features.
We currently offer the Tesla Model 3 Long Range, and Standard Range Plus!