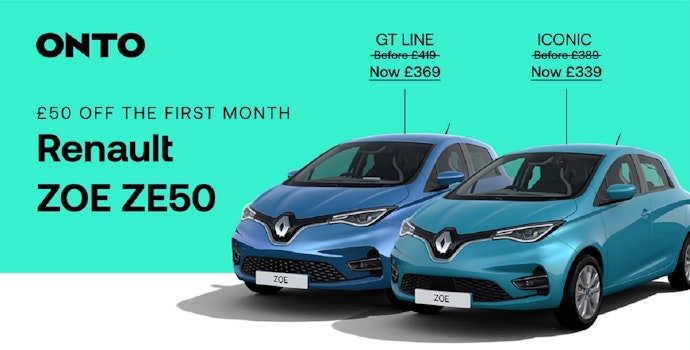 Stay safe during lockdown
With England having entered its second lockdown of 2020, here at Onto we are doing everything we can to support you, and keep you and your loved ones safe and healthy. 
To provide as much support as we can to anyone who needs a car during these difficult times, we have just launched a pre-Black Friday offer of a £50 discount for the first month on ALL our Renault Zoe ZE50's. 
Use the code ZOE50 when you sign up, and the £50 discount will be applied automatically! 
Both the Iconic and the GT Line are available now for delivery, in a variety of colours. You can read more about these two trim levels here. 
As an essential service supporting you in your mobility needs, we are continuing operations as usual and delivering cars as and when you need them. 
Here are the steps we have taken to reinforce health and safety. 
Housekeeping: all our cars are disinfected thoroughly prior to delivery, ensuring that when we deliver the car to your door they are completely clean and safe for you to use right away. 
Staff: all our staff who are able to are working from home. Those who are not are following strict health and safety protocols, including adhering to social distancing, using masks and washing their hands regularly or using hand sanitiser. So far this 2020, none of our staff on site have reported any symptoms or tested positive for Covid-19.