Check out the differences between the Performance Line and the Ultra Prestige
The latest addition to our fleet is the perfect car for those of you looking to get a bit more space. 
This compact SUV has the best of both worlds - small enough to make it quick and easy to move around, while large enough to comfortably fit your family or a couple of friends. 
We will have it available in two trim levels - the Performance Line and the Ultra Prestige. You might be wondering; so what's the difference? Let's jump right into it!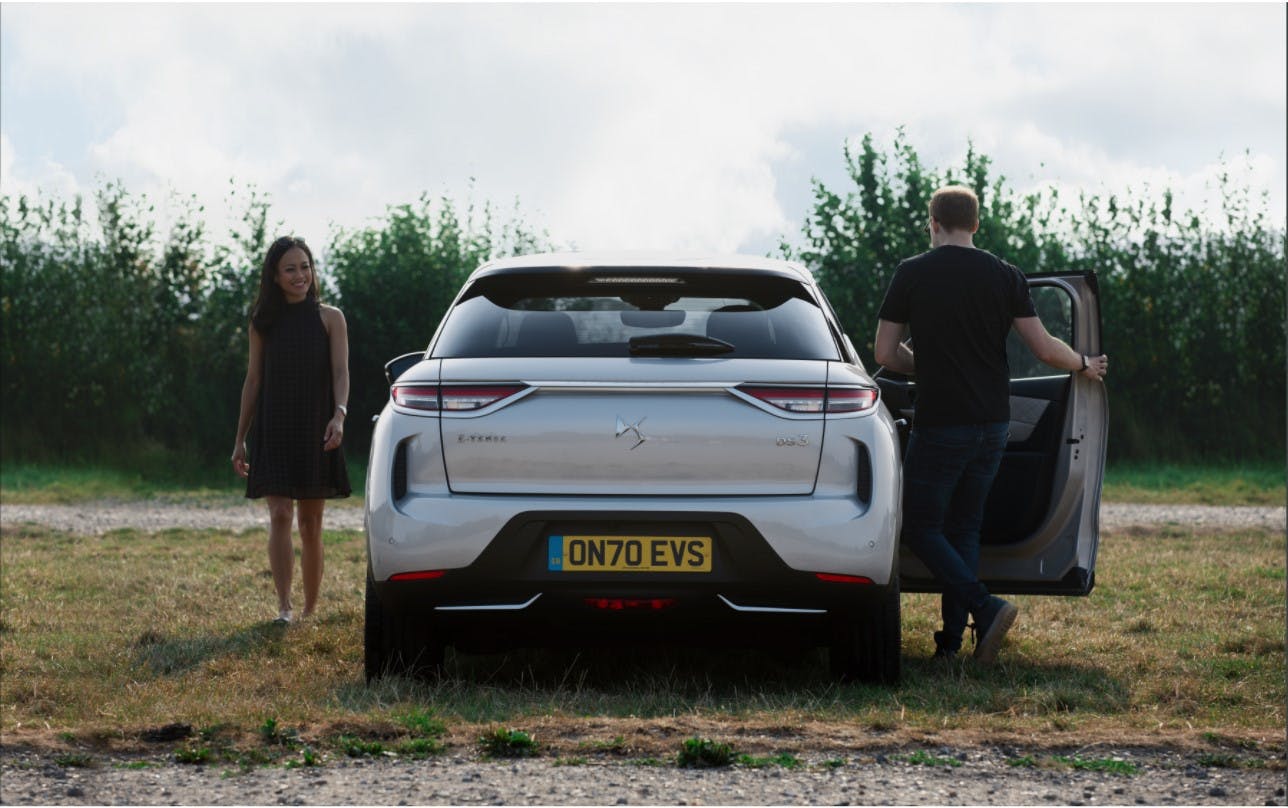 Exterior Design
The DS 3 Crossback E-tense exterior design is stylish with key features that will make you fall in love with it. 
Flush fitting chrome door handles, gloss black exterior door mirrors and dark tinted rear windows give it an edge making it stand out.
The lighting in both cars is excellent, with LED daytime running lights, boot lighting and front & rear LED reading lights. The Ultra Prestige has better lighting with DS MATRIX LED VISION headlights DS 3D LED rear lights. 
One of the most noticeable exterior difference between both trim levels is the alloys, with the Performance Line using 17" 'Dubai' alloy wheels and the Ultra Prestige having the larger and more premium 18" 'Kyoto' diamond-cut alloy wheels.
Take a look at both trim levels below:

Interior Styling Features
The DS 3 Crossback E-tense interior styling is nothing short of breath-taking. With comfortable seats, ample space, and a luxurious design, sitting in this car will make you feel empowered and stylish. 
The Performance Line comes with a black perforated leather steering wheel and aluminium sport pedals. Although both models come with a beautiful interior design, the Ultra Prestige takes it one step further to include a black premium leather steering wheel, front and rear carpet mats and pearl stitching. 
See both interiors here: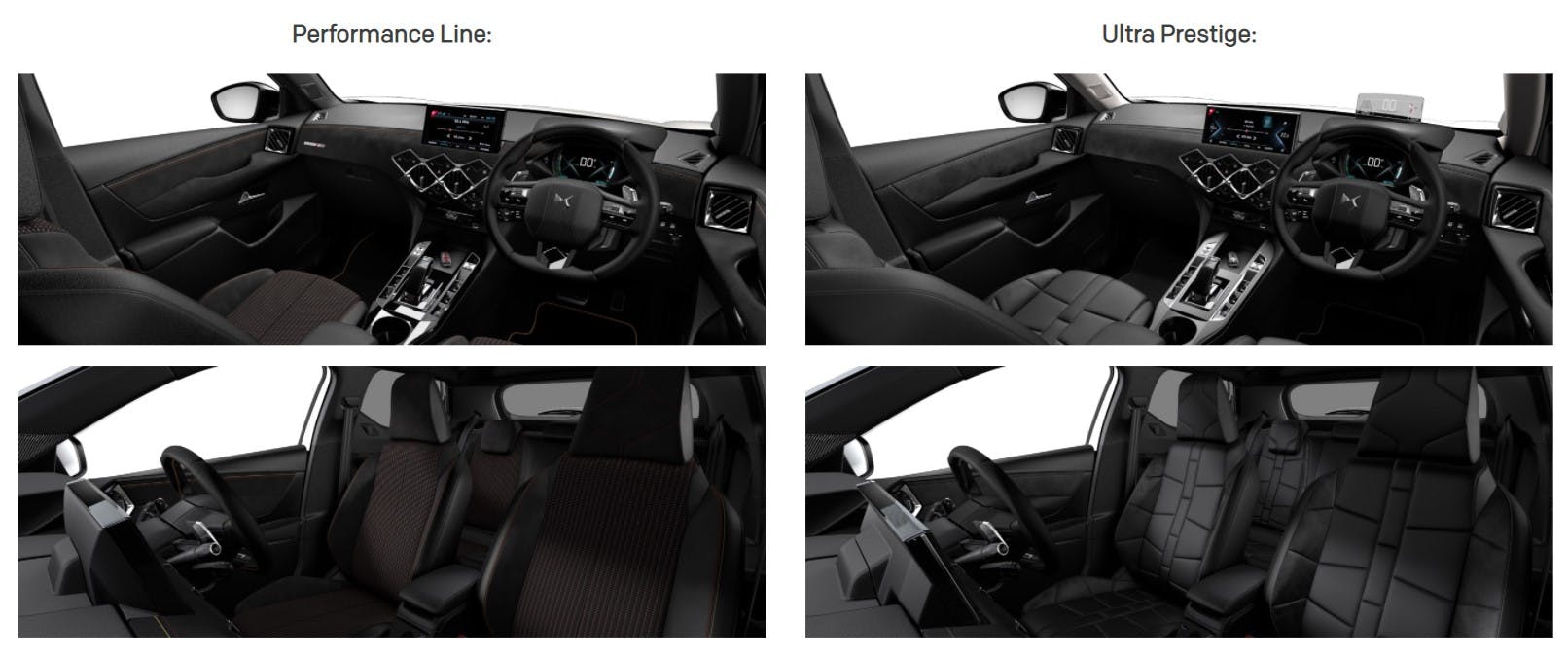 Driving and Controls
Driving the DS 3 Crossback E-tense is comfortable, smooth and exciting. Packed with advanced technology, it offers a unique driving experience. 
Both trim levels include front and rear parking sensors, cruise control with speed limiter and hill assist. Additionally, the Ultra Prestige has a reversing camera with an incredible 180 degree view which will make parking fast and easy. 
Comfort and Convenience

In-car entertainment has all you need for a perfect journey. It conveniently comes with Apple CarPlay™ and Android Auto®, which is made even better by the 8 built-in speakers. 
The Performance Line comes with a 7" touchscreen, while the Ultra Prestige gives you a better view and controls with its 10" HD touchscreen. 
Summary - Prices and Spec 

Finally, here is a summary of the key differences you need to know to make your final decision. Which model will you be driving?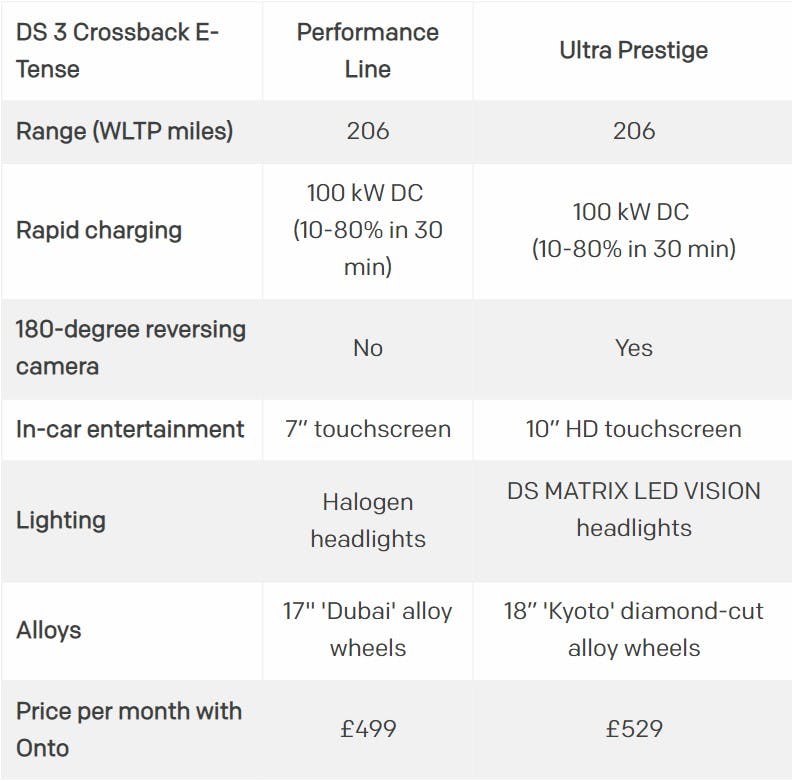 Check out the Performance Line page or the Ultra Prestige page to find out all the info about these two cars. 
We will start delivering both models in mid-November 2020. Book your car today and don't miss out!