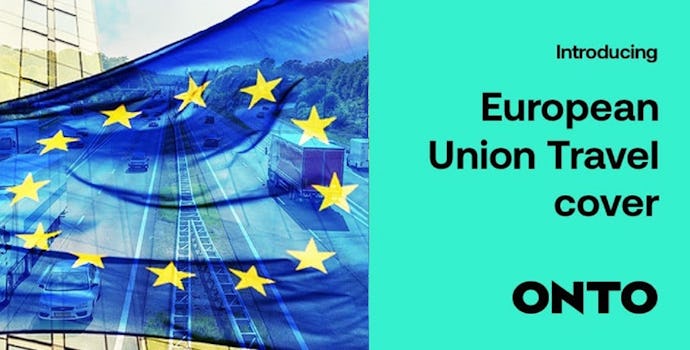 Launching European Union Travel
Exciting news here at Onto. Today we are launching European Union travel!
This has been ready for a few months now, but with the Covid-19 travel restrictions we didn't feel it was right to encourage you to travel abroad. However, with travel restrictions now lifting we are happy to finally launch it. If you do decide to travel this summer, please follow government advice, be responsible and stay safe.
Here is how Onto European Union travel works:
You must have had at least 1 month subscription with us and be in an active subscription when requesting to travel abroad.
Let our customer service team know that you want to travel abroad, and they will send you the EU travel request form for you to fill out. Please make sure to complete the form at least 14 days before you plan to travel, and please note that only the main driver can complete the form.
We will review your request and get back to you with the next steps.
If accepted, we will then charge the travel fee and send you all the relevant European Union travel documents.
After you're cleared to leave the country, you must return within 28 days. Also, when you return, you must allow up to at least another full calendar month before requesting to travel abroad again.
Enjoy your journey!

Where can you travel?
You will be able to take your Onto car to any country that is part of the European Union. 
How much will it cost? 
The cost will depend on where you are going and for how long. You can find more detailed information about this on the travel request form, or ask our team. 
The reason for this additional cost is that we need to arrange additional insurance and break down cover for when you're abroad.
What about charging?
We include charging with our charging partners as part of your subscription, while BP Pulse and Instavolt don't have charging stations outside the UK yet, Shell Recharge has over 170,000 in Europe!
If you are driving a Tesla, you will still have access to the supercharger network when abroad. You can see a map of all their stations here.
Anything else you need to know? 
Different countries have different regulations when it comes to driving. You are responsible for adhering to the law in the country you are in, and paying any road tolls or fines that you incur during your journey. 
If you have any questions, please don't hesitate to reach out.