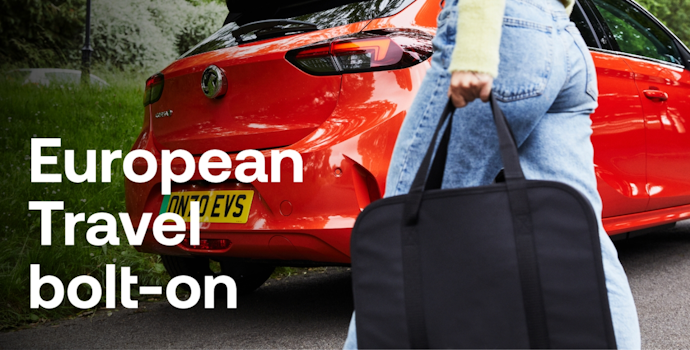 European Travel bolt-on
Don't let borders stop you! You can travel all over Europe in your Onto car with the European Travel bolt–on. Request it in a few clicks, and we'll take care of everything else. Yep, travelling with Onto is as hassle-free as it sounds!
How does it work?
Request your bolt-on by filling up this form >
Please make sure to fill up this request at least 7 business days before you plan to travel. We aim to review your request within 3 day. If everything's fine, your application will be accepted. We'll contact you if we need more information.


Review & Payment
Once we've reviewed your request, and if successful, we'll process the payment. This bolt-on is non-refundable once it has been charged.


Receive your documents at home
We will send all the relevant documents to your address via Royal Mail Tracked & Signed, as you must travel with the originals (authorities won't accept digital or photocopied versions). You should receive them within 4 days after payment. Please keep this document safe, a £15 admin fee will be charged if we need to send you another one.
What are the conditions?
You are the main driver, currently have an Onto car, and have had your current Onto car subscription for a minimum of 1 month prior to the proposed date of travel OR have had an Onto car subscription in the past for a minimum of 3 consecutive months.
You have been in the UK for a minimum of 28 days since returning after a prior EU Travel application.
You have no outstanding open subscription, bolt on, or damage payments.
All countries of travel are included in the list of insured countries below.
Where can you travel?
With this bolt-on, you will be able to take your Onto car to any country below:
European Union: Austria, Belgium, Bulgaria, Croatia, Republic of Cyprus, Czech Republic, Denmark, Estonia, Finland, France, Germany, Greece, Hungary, Ireland, Italy, Latvia, Lithuania, Luxembourg, Malta, Netherlands, Poland, Portugal, Romania, Slovakia, Slovenia, Spain and Sweden.
Rest of Europe: The Isle of Man, Channel Islands, Iceland, Norway, Switzerland, Andorra, Liechtenstein, Monaco, San Marino.
Do I need a bolt-on for Northern Ireland?
No, but you will still need to notify us at [email protected]
How much will it cost? 
The cost will depend on how long you're going abroad:
1 to 8 days = £100
9 to 15 days = £150
16 to 28 days = £200
The reason for this additional cost is that we need to arrange additional insurance, break down cover, charging, and other country-specific regulations to enable you to travel with your Onto car. 
What about charging?
You will still be able to charge for free with our charging partners! Shell Recharge has over 170,000 in Europe!
If you are driving a Tesla, you will still have access to the Tesla supercharger network when abroad.
What happens in the event of an accident abroad?
In the event of an accident, all your costs will be covered, and you'll get both a replacement car and a hotel. You'll receive an email that tells you who to contact. We still recommend taking a travel health insurance in case you need assistance.
What happens in the case of a delayed/updated return date?
If you have any problems or need more information, please contact our Customer Support team at [email protected] or 0345 0348 647, and a member of our team will assist you.
What if I need to pay a toll while abroad?
To pay a toll, please pay physically by card rather than through electric tolls apps such as Bip&Go app, as they're not compatible with our cars yet. Please note that we're not covering tolls while aboard.
Can I use my Onto points to pay for this bolt-on?
Yes, you'll be able to let us know if you'd like to use your Onto points to pay or partially pay for this bolt-on. If you're not opted-in to Onto Rewards yet, you'll need to opt-in before you can redeem your points
Can I travel in and out of the UK to the EU multiple times within the period I have requested (eg 1-7 days)?
Yes. However if you regularly want to travel to the EU from the UK, remember that you must have a 28 day period between each request.
Anything else you need to know? 
Different countries have different regulations when it comes to driving. You are responsible for travel health insurance, adhering to the law in the country you are in, and paying any road tolls or fines that you incur during your journey. Find out more about driving requirements in Europe >
 
If you have any questions, please don't hesitate to reach out!