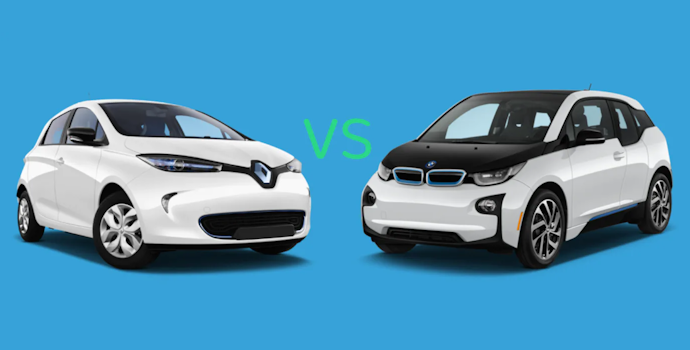 BMW i3 vs. Renault Zoe R110: The differences between the two EVs
Are you in the market for an electric car, but haven't yet decided which model is right for you? Let us narrow things down for you by pointing out the benefits of two of the most popular electric vehicles on the market: the BMW i3 and the Renault Zoe R110. Read on for the full electric cars comparison guide.
Price comparison
The Renault Zoe R110 is a supermini electric car, built for urban environments. Whilst similar to a small petrol car in appearance, in contrast, it includes eco-mode air conditioning and EV tyres to maximise driving range. It's designed for the enthusiasts of innovative technology, who choose not to be showy.
How much does a Renault Zoe R110 cost? Prices can vary with retail recommended prices (RRP) at £21,220 through to used deals starting at £16,000. Alternatively, you can get a subscription-based ownership with Onto for £339 for one month, which includes fuel, insurance and servicing. We think our pricing structure is the future of electric car ownership and would love to introduce the idea to you. It's very competitive compared to other finance deals which start at £350-400 per month for new Zoe's, without insurance and repairs included.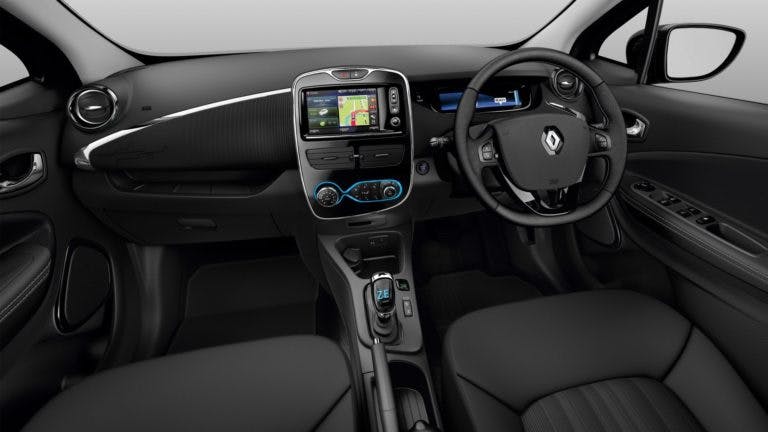 Entering the market at a slightly higher-end is the BMW i3, which wows enthusiasts with its futuristic looks and high-tech driving experience. Suitable for your adventure junkies and admirers of engineering brilliance, the i3s ConnectedDrive function and lightweight construction is well worth checking out.
How much does a BMW i3 cost? More expensive than the Zoe, the i3's RRP price is £34,445. As with the Zoe, Onto offers a very competitive, flexible offering for customers who are ready to try the future of electric car ownership. BMW i3's are priced at £369 for one month, compared to other finance deals which range from £480-550 per month, without insurance and repairs included.
If you're looking for high-end performance with your new car, then you won't be disappointed with the BMW i3. With lots of torque available, the i3 is well-suited to urban driving and will outpace most everyday cars. Below are some of the key performance metrics:
BMW i3 0-60 mph: Invariably this is the metric that most people are looking for when it comes to the performance of their car. The i3 hits 0-60 with relative ease at 6.9 seconds and you won't be uncomfortable as a driver or passenger, as the acceleration is very smooth.   
BMW i3 50-75 mph: It accelerates in just 4.9 seconds, so you'll have no problem keeping up with traffic on the motorway. 
BMW i3 0-100 mph: The i3 is limited to a speed of 92mph for 'efficiency reasons'
The i3 is a great city car: it's agile, has super responsive accelerating and takes corners amazingly well. Just be wary of the regenerative braking, which is highly sensitive and may take some getting used to.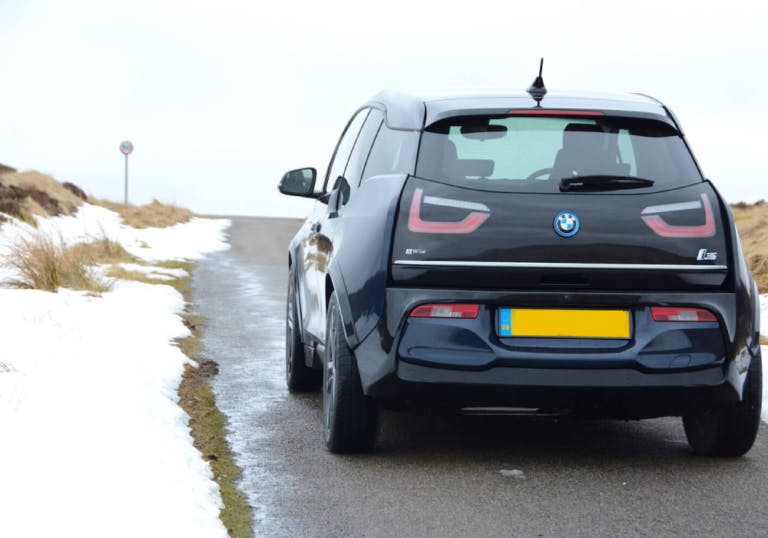 What is the performance like of the Zoe? The Renault Zoe R110 has a more powerful electric motor than previous editions, offering 107 bhp compared to 91 bhp last year. Despite this upgrade, the energy efficiency and battery capability of the car remain, meaning that you can still get a 'real world' range of 186 miles. But, in terms of power, the Zoe is no match for the i3 which has far superior accelerating speeds.
Renault claims that it's at the long-distance speeds where you will see the difference with the new motor upgrade. The R110 is two seconds quicker to accelerate from 50-75mph compared to the R90. But, in its natural, urban environment, you will see great improvements in acceleration and will have no problem getting from 0-40mph. The car handles well on bends and on smoother surfaces.
Range comparison
If you're a newbie to the electric car world, then you may be wondering what the jargon terms are around battery and range. So here are some short descriptions, most of which are self-explanatory and then a comparison on the Renault Zoe and BMW i3. 
Real World range: How long an electric car will run on a single charge. 
Extended range: A range extender vehicle is a battery electric vehicle that includes an auxiliary power unit (APU) known as a 'range extender'.The key function of the range extender is to increase the vehicle's range. 
Winter range: Electric cars perform better in the summer when they are not impacted by the cold conditions, which is why people often view the winter range before purchasing. 
Motorway range: This will give you an indication of how long your battery will last on a motorway. You'll find that driving on a motorway over 60mph will have a big impact on your battery. 
Renault Zoe range 
Since being launched in the UK in 2013, Renault has doubled the Zoe's range. If you're looking for an electric car for long driving journeys, then the Renault Zoe R110 has the furthest range from a single charge compared to any of its rivals (Nissan Leaf, BMW i3). But, range can drop significantly in cold conditions, if driving quickly on a motorway or using the cars heater.
Could driving slower get you to your destination quicker? This might be impossible for a petrol car, but with electric cars we have to stop off and recharge, so if we have a longer journey we may actually get to our destination quicker by driving at 60mph. In doing so we might avoid draining the battery and having to stop off. 
BMW i3 range
The i3 falls slightly shorter than the Zoe when it comes to range. Not to despair though, a lot of the newer models have improved range and versions to be released in the future will also cater for people that want to drive further. 
Like the Zoe and most electric cars, range is affected by winter conditions. If you drive 20-30 miles or less to work then the i3 could be perfectly suited to your routine. But, we recommend opting for cruise control which will preserve the battery. 
An additional way to increase your mileage is with a range extender, but note that BMW have recently ceased production of them. Using an extender you can increase the battery life of your car by 65%. 

Car efficiency comparison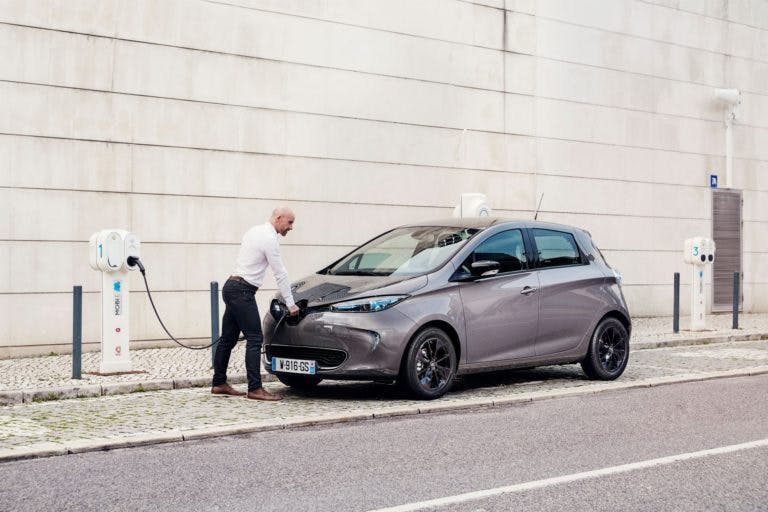 While not necessarily as important as price and range, electric car efficiency could be a useful aspect for the more technically-minded owner. Simply put, it is how well a car converts electrical energy into kinetic energy or even simpler, how well a car converts electricity into miles of travel.
The easiest way to calculate efficiency is by dividing the average range by battery capacity, to get the miles per kWh. Based on our calculations below, the Renault Zoe R110 turns out to be a more efficient electric car compared with the BMW.  However the i3 is built for performance and driving, so naturally, this affects the range capability.

Conclusion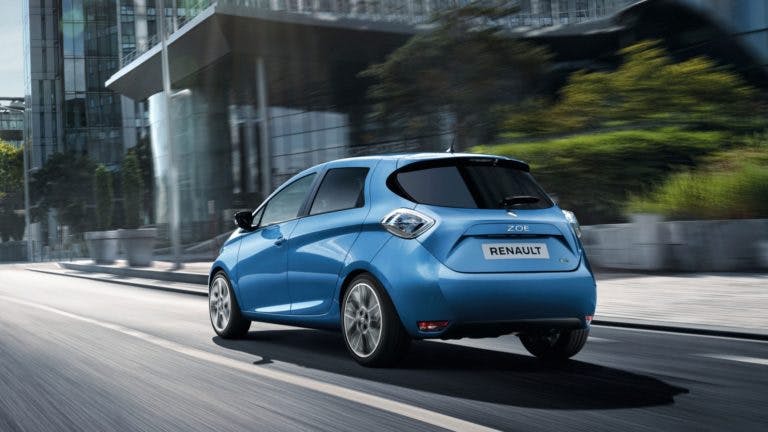 Making a decision does come down to your preference on pricing, performance and charge time. If you're looking for a nippy car, packed with the latest driving features, then the BMW i3 could be your perfect choice. The performance and innovation will give you a flavour of what it's like to own a high-end vehicle if you did have ambitions to own a Tesla, but currently, don't have the finances.
The Renault Zoe R110 is a fun city car, which handles well and gives you plenty of range. If you're looking for an affordable option without having to commit to buying outright, then an Onto subscription would be a good option.
Do you want to have your say on the next Onto comparison blog? Maybe you want to see the Renault Zoe vs Nissan Leaf or how a new Tesla might compare to its market competitors. If you have some ideas, please do get in touch and we'll review the best topics to write about.