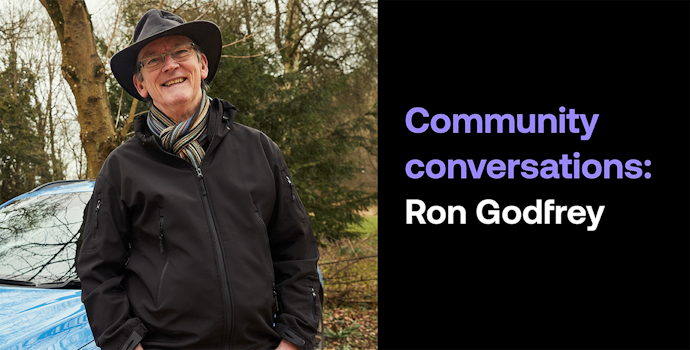 Electric car subscription has made driving fun again
Ron Godfrey is a business consultant from Hertfordshire. We spoke to him about making the shift to an EV. He can't believe how much he's enjoyed driving his Onto electric cars.
They say you can't teach a dog new tricks, but I've been an Onto member for less than a year and I've already swapped my car three times. I love the freedom of being able to try something new whenever I like. 
My history with driving dates back to the 1980s, although I started out on motorbikes because I couldn't afford a car back then. 
I've often had to drive for work as a business consultant for financial regulators. Before I switched to electric, I was driving a 19-year-old Mercedes S500 that I'd bought off eBay for £4,000 without even seeing it. It had been a good car but I was waiting for the next big repair bill. And with the price of parts as they are for the Mercedes, it was going to be at least £1,000. 
I spotted an advert for the Onto subscription model and was intrigued. I had been wondering about what to do about the next car – weighing up whether I was going to spend £5,000 or £10,000 on something that might only last six years. Onto seemed well priced, once you took an MOT, breakdown membership, insurance and repairs into account. Plus there was no up-front deposit to think about. 
I didn't know anything about electric cars (EVs) – I'd never driven one. I didn't know which car I wanted. I didn't know how the technology was going to change over the next few years. So the fact that I could try an electric car without a long-term commitment was very appealing. I actually kept my old Mercedes for a couple of weeks after subscribing to Onto just in case I changed my mind. But after a fortnight, I gave it away to be auctioned off for charity! 
Day one of driving an electric car changed me. It was a Hyundai Ioniq, and any reservations I had about electric cars disappeared. It was incredibly easy and smooth to drive. It was quiet. I could sit with the engine 'idling' in a traffic jam and not feel like I'm polluting the planet. Within two miles, I was a complete convert. I've not missed an internal combustion engine since.
I'm one of the many electric car drivers that don't have home charging. There's no access for a vehicle to get close enough to my house. But it's never been a problem. 
Within a day or two of getting the Ioniq delivered, I'd gone out and tried a number of the charging points nearby to see how they work. Onto's all-inclusive charging makes it really easy. I now have a slightly geeky knowledge of the best chargers within 30 miles of home. And anywhere else, I use the Zap-Map and WattsUp apps. I'll get a coffee or make a call for 20 minutes while the car charges, then pick up a packet of biscuits to bring home. Charging is just absorbed into the planned driving time. 
After a few months, I wanted to try a new car. This time, I went with a bright blue Hyundai Kona. We took it on a 1,600-mile round trip recently, up to the Yorkshire Dales and across to the Lake District where we stayed for a fortnight. Early one morning, I took the car along the side of Lake Windermere and was so impressed by the handling through the bends. The throttle response is just really nice. Charging up there was easy too. Occasionally I make myself endure a bit of range anxiety when I run the battery down to 4%. That's still plenty of miles. But usually I go by the mantra of ABC – always be charging. 
For someone thinking about getting an electric car, my advice would be to find someone who's got one and ask them as many questions as you can (or check out the Onto blog for additional expert insights). Sit in the car with them if possible, see what the charging experience is like. The technology is moving so quickly, if you have any past preconceptions, they're not likely to be relevant anymore. The only way I could see myself going back to an internal combustion engine is if someone gave me an E-type Jaguar. 
I'm just about to swap to my third car, which will be a bright green Vauxhall Mokka. Electric cars make me feel like driving is fun again.
There's no guilt in trying something for a month or two, then sending it back if it doesn't suit me. I think I'm likely to change around three times a year, just because I can. Plus there are new cars coming onto the market that I want to try!
This is the future of driving
Find out everything you need to know about the latest innovation in car ownership in our latest guide: Car subscription explained.
For an all-in monthly fee, you can enjoy all the benefits of car ownership, but none of the hassle.