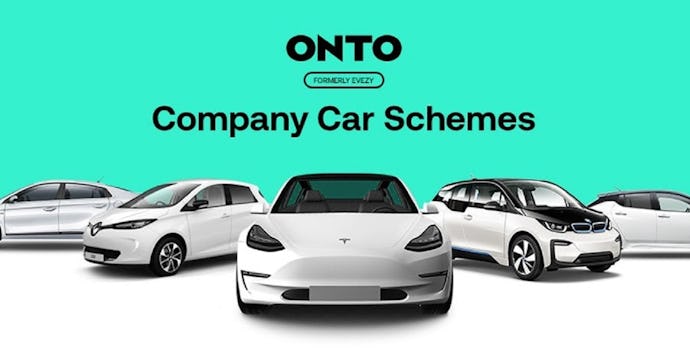 Company cars and salary sacrifice: The benefits of switching to Onto for Business
Onto for Business is easy. Switching to a more cost-effective company car or salary sacrifice scheme with us has never been simpler, cheaper or greener; and here is why.
How does a company car scheme work?
The scheme is a contractual agreement between the employer and car provider. An EV company car scheme is a sure fire way to give your employees a new vehicle that's insured and maintained at a cheaper rate. The mandatory Benefit in Kind (BIK) tax employees usually pay on company cars is now 0% for EVs during 2020. Happier bank balance, happier planet - easy.
Have we piqued your interest?      
Onto offers an 'everything included' package. Your Onto subscription comes with; insurance, maintenance, breakdown cover and even public charging included in the monthly subscription cost - and all with just a one month commitment! 
Onto eliminates any hassles or worries that come with having a company car, allowing your life to become as easy to manage as the car you choose to drive.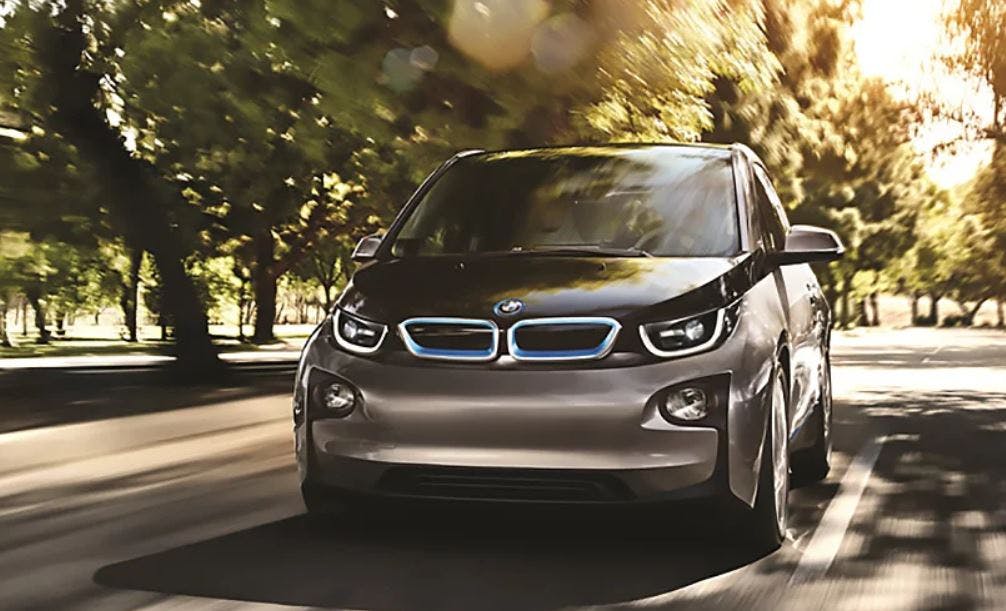 Car: BMW 118d
Term: 36 months
Average monthly rental (inc VAT): £414 (£2,178 initial + 35 x £363/month) 
Maintenance and insurance: £74 (£24 maintenance, £50 insurance)
Total: £488 (monthly)
Car: BMW i3 (Onto)
Term: 1 month commitment
Monthly subscription cost: £469 
Maintenance, insurance and charging: £0 (included in monthly subscription)
Total: £469 (monthly)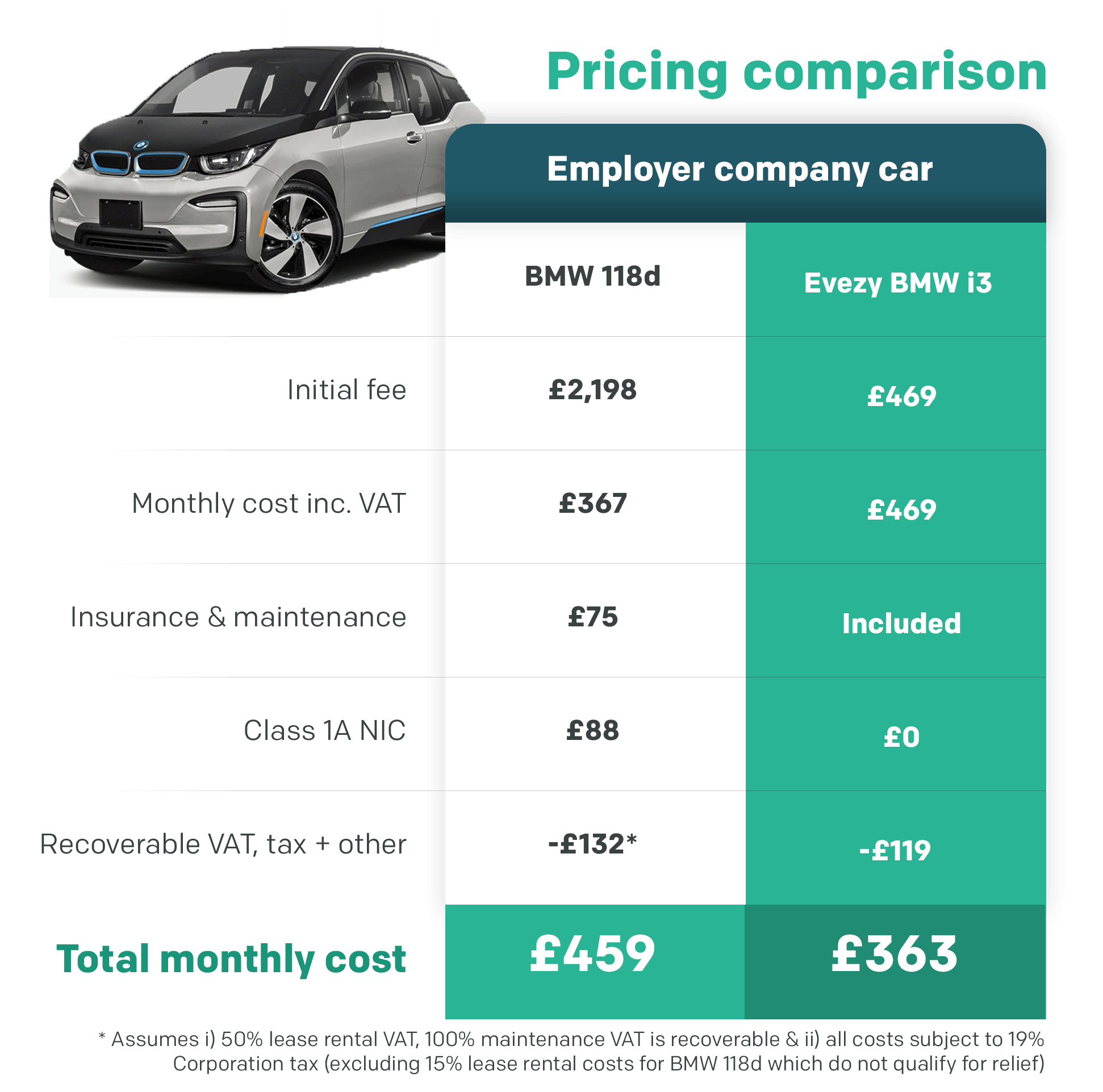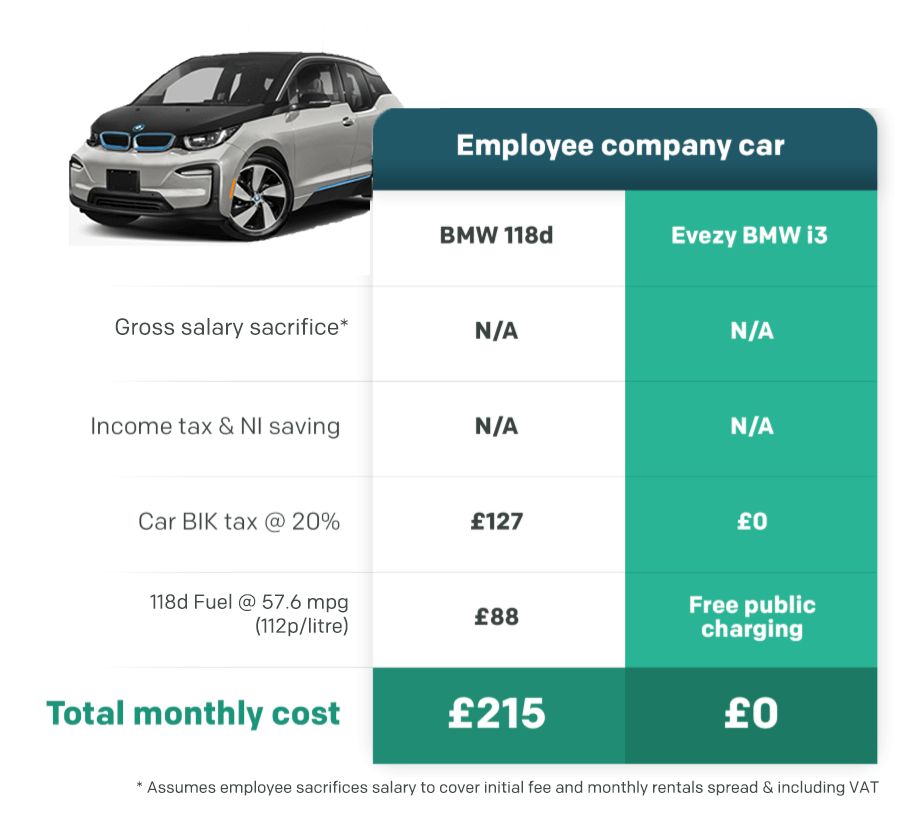 What if my company offers salary sacrifice instead?
If companies offer a salary sacrifice scheme, employees can choose to sacrifice part of their salary in return for a car and all the sundries. Part of an employee's salary is 'sacrificed' before tax and National Insurance is taken. Once this is done, the amount sacrificed is used to pay tax on the BIK value, which is 0% with our EV's - easy savings. We've broken it down for you below, so you can have a clear picture of what the cost saving will look like for your employee.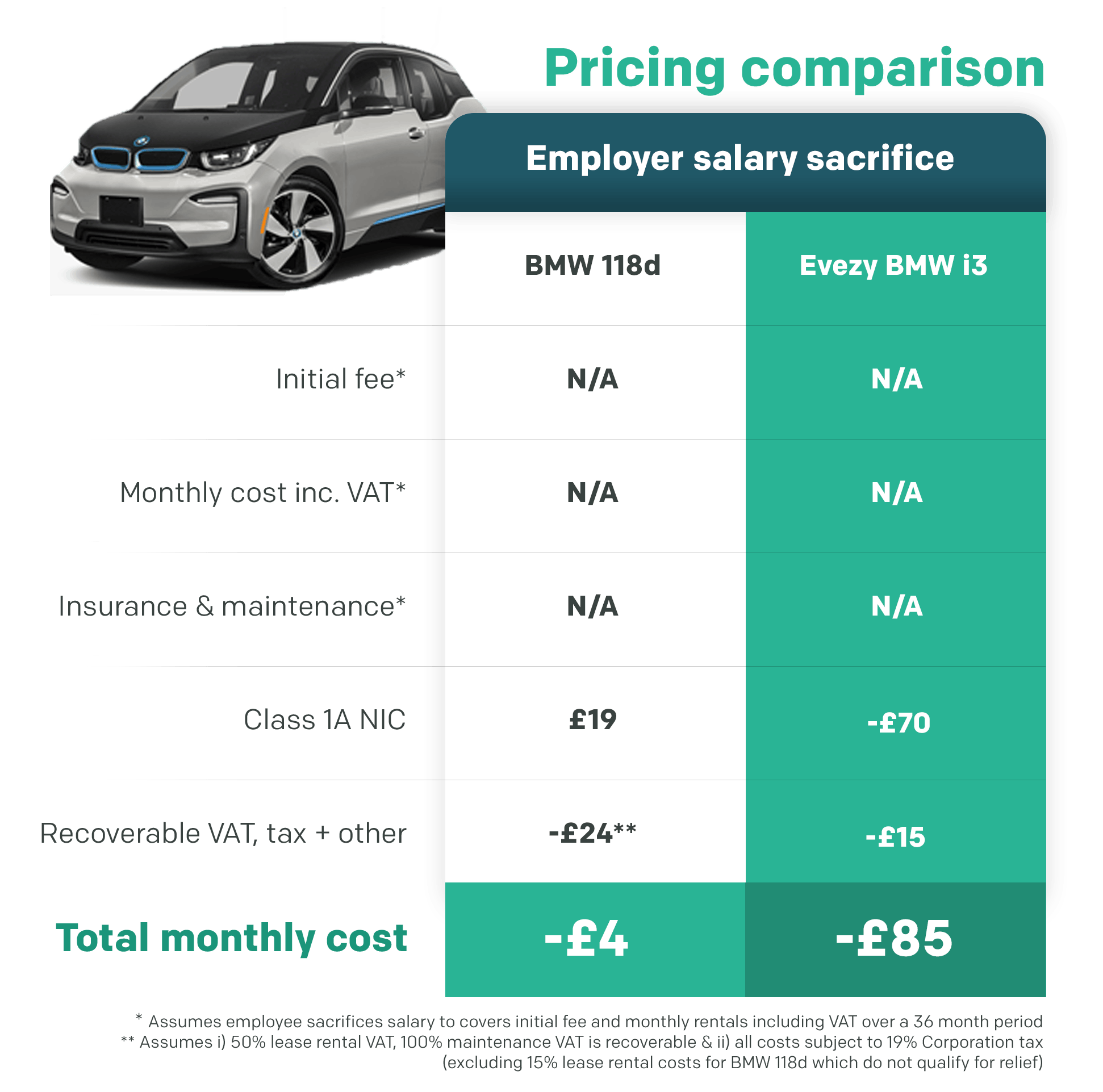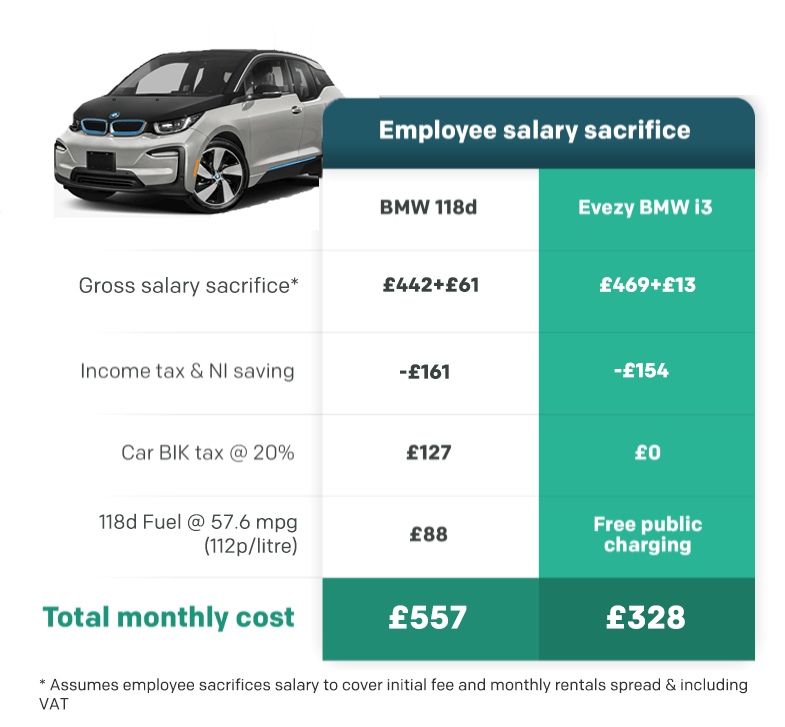 In this example, your business could save over £1,100 per employee per year by going electric! Even more importantly our chart above shows that for a 20% tax payer, the saving on either a company car or salary sacrifice is over £2,500 per year with Onto vs Non-EV - this increases if you're on the 40% tax band!
Do you still need convincing?
As well as the money saving opportunities, plenty of positive factors come into play when you choose to switch to us.
Insurance included
Maintenance of EV
Public charging paid for
Breakdown service
Regular Servicing 
24/7 customer service
Dedicated account manager (for businesses) 
Digital key via the Onto app
Employers have potential to save over £1,000 annually through salary sacrifice
Employee Savings of over £2,500 a year with Onto - (more if you're on the 40% tax band)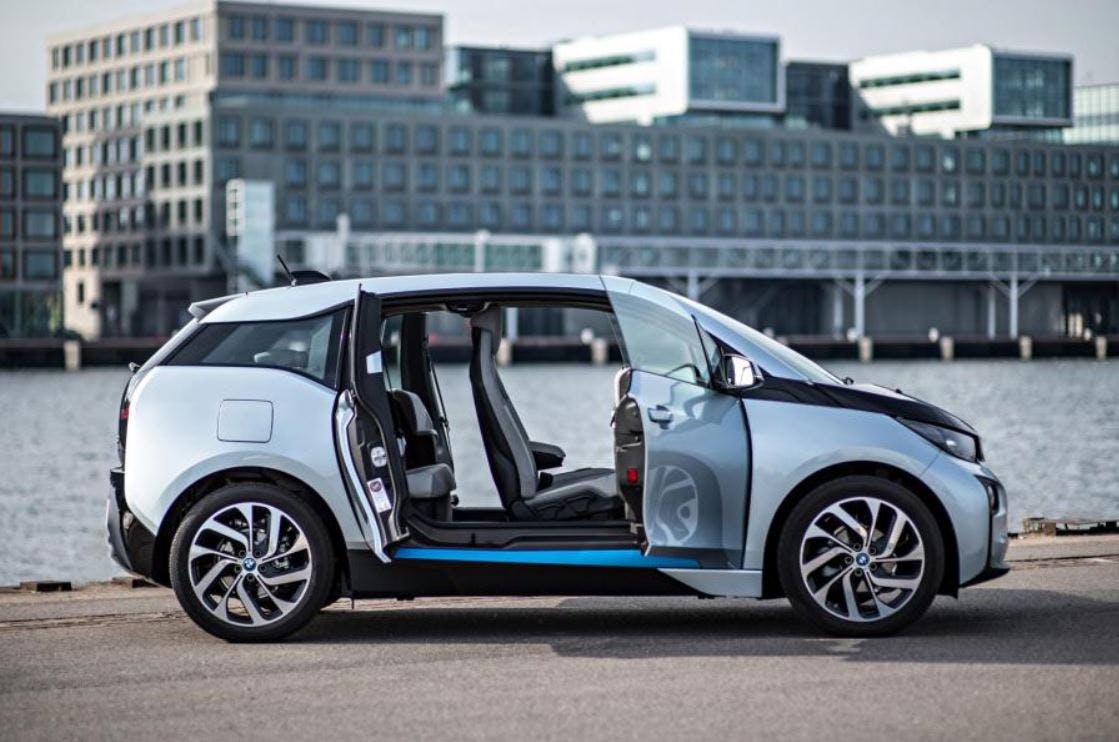 Benefits for the employer
1. As shown above, you can make big savings on National Insurance (NI) contributions. 
2. Enjoy REAL flexibility. You will never have to worry about being locked down into a car contract for 2+ years. With Onto, we offer a 1 month commitment with everything included. If things change and your employee moves on from the business, you can return the car back to us. 
3. Having this scheme available will help you achieve your company's corporate social responsibility goals. Being socially and environmentally aware is important to employees and customers, so having a fleet of electric cars speaks volumes for your brand image and the company's efforts to reduce its carbon footprint. 
Benefits for you as an employee
1. Whether you choose Onto for a company car or salary sacrifice scheme, you can save over £200 a month on tax, National Insurance and fuel. The more tax you pay, the greater the savings. Looks like that Tesla isn't so out of reach after all.
2. Having an Onto car means no-hassle ownership. Everything you need is included (even electricity), all you have to do is drive and enjoy the ride. You won't have to worry about paying for insurance, servicing or maintenance etc. And if you need help, our team is available 24/7 to support you. 
3. Drive the future. Electric vehicles are better for the environment, and you'll be helping us on our mission to save the planet. They also happen to be great fun to drive too!
Sold yet? Let's get you sorted! For more information about us, click the button below - easy.