5 key changes to the Highway Code
As you may have seen in the past week, the government has approved plans to make changes to the Highway Code. The new laws have been made to improve the safety of pedestrians and those cycling, and they come into effect on Saturday 29th January 2022.
We have put together a list of the 5 main rules, so you don't get caught out! So without further ado...
Rule 1: Using an electric vehicle charge point
For the first time, the code will include guidance about using electric vehicle charging points.
When using one, people should:
Park close to the charge point and avoid creating a trip hazard with trailing cables
Display a warning sign if you can
Return charging cables and connectors neatly to minimise the danger to other people and avoid creating an obstacle for other road users
Rule 2: Parking and leaving vehicles
The code recommends a new technique when leaving vehicles. It's sometimes called the 'Dutch Reach'.
Where drivers or passengers in a vehicle are able to do so, they should open the door using their hand on the opposite side to the door they are opening. For example, using their left hand to open a door on their right-hand side.
This will make them turn their head to look over their shoulder behind them. They're then less likely to cause injury to:
People cycling or riding a motorcycle who are passing on the road
People on the pavement
Rule 3: New hierarchy of road users
Drivers of vehicles that can cause the greatest harm in the event of collision bear the greatest responsibility to take care and reduce the danger to others. This principle applies most strongly to drivers of lorries, vans, cars, and motorcycles. Cyclists and horse riders have a responsibility to reduce danger to pedestrians.
Rule 4: New priority for pedestrians at junctions
Drivers, motorcyclists, and cyclists should give way to pedestrians crossing or waiting to cross a road into which or from which you are turning. You should give way to pedestrians waiting at a zebra crossing (currently it's only if they're already crossing), and to pedestrians and cyclists waiting to cross a parallel crossing.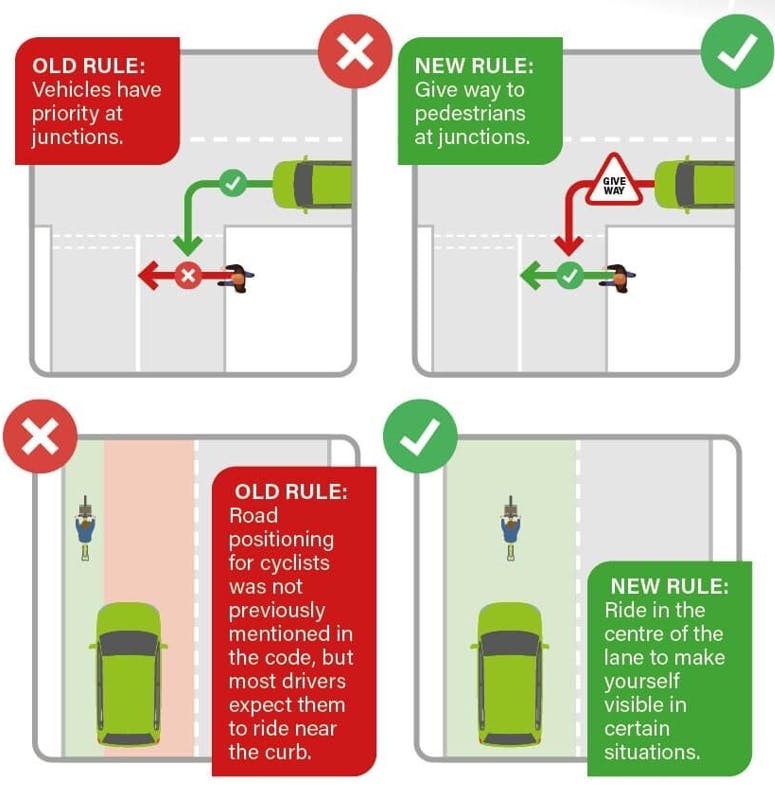 Rule 5: Priority for cyclists when cars are turning
You should not cut across cyclists, horse riders, or horse-drawn vehicles going ahead when you are turning into or out of a junction or changing direction or lane. You should give way whether they are using the road, a cycle lane, or a cycle track. Do not turn at a junction if to do so would cause the cyclist, horse rider, or horse-drawn vehicle going straight ahead to stop or swerve. You should stop and wait for a safe gap if necessary.